Assam
Assam: Public announcements for swab tests to contain coronavirus in Hailakandi
ADVERTISEMENT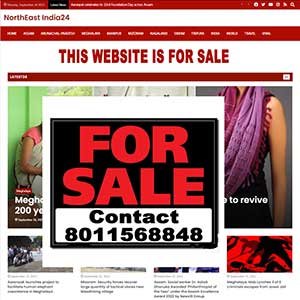 Hailakandi- Public announcements from loudspeakers fixed atop a vehicle are catching the attention of residents in Hailakandi distrct of Assam.
The Office of District Information and Public Relations, Hailakandi which is chalking out various measures to create awareness among residents has come up with this innovative idea amid the COVID-19 pandemic situation in the district.
The vehicle has been fitted with loudspeakers to educate people about COVID-19 and measures to be adopted to stop the spread of the virus and stay safe.
The DIPRO personnel play the recorded audio, thus drawing the attention of people. These announcements are also relayed over the fixed loudspeaker (FLS).
In the audios, people are urged to maintain social distancing, sanitise their hands, wear masks and take other safety measures to stop the spread of the virus. Senior citizens and children have also been asked not to venture out unnecessarily.
The announcements also at the same time warn of imposing a fine of Rs.1,000 on maskless people. People are also asked not to spit on the streets.
The public announcements also request those who did not undergo swab tests to come forward voluntarily at the swab screening and collection centres set up across the district for their own health, their family members and society at large.
Debashree, a homemaker, lauded the efforts of the district publicity office and said, "Repeated announcements on the loudspeaker has the desired effect. It has been helpful to reach and educate people. It is good to see that after so many initiatives of the district administration in the fight against coronavirus, people are now behaving responsibly."
Jasimuddin Barbhuiya, a shopkeeper, said, "The loudspeaker announcements are helping in a big way vis-a-vis changing the mindset of the people about the need to go for Rapid Antigen Test for early detection of COVID cases, isolation and treatment".
DIPRO, Sabir Nishat said, "These announcements are drawing a lot of attention from the people. We have also been requesting citizens to maintain social distancing, wear masks or face cover and personal hygiene for more than seven months."
Nishat further said that compared to RAT and RT-PCR tests conducted two and a half months ago, the number has gone up considerably. "In comparison to what we have had witnessed of low turn out at the screening and swab collection centres, the number has increased significantly to an average 800 to 900 RAT cases during the past two and a half months, even crossing the 4,000 mark on a single day."
Following increasing demand for extension of FLS to newer areas, the publicity office placed proposal to the Directorate of Information and Public Relations. "The DIPR sent equipment for FLS and these were installed in areas such as Bata Point, Matijuri Point, Old Hospital Point, Ratanpur Road, Lakhisahar Bus Stand and Hailakandi Block Road. Subject to availability of accessories, plans are on the anvil to extend the FLS line to Katlicherra Bus Stand and College Road Bus Stand."
The DIPR also approved the proposal for installation of FLS in rural and tea garden areas. Meanwhile, FLS have come up at Ainakhal, Katlicherra and Manipur Goan Panchayats and at Serispore and Chandipur tea gardens. "As announcements through loudspeakers turn out to be effective means of disseminating information on a gamut of issues here, demands keep pouring in from the general public for extension of FLS in more and more areas," he added.
As on Wednesday, Hailakandi witnessed 3,181 cases of which 2,991 have been discharged, while eight deaths were also reported. A total of 86,879 swab tests of which 60,297 under RAT and 26,582 under RT-PCR have been conducted so far.