Assam
Assam police exam paper leak: cash reward for former Assam DIG and BJP leader
ADVERTISEMENT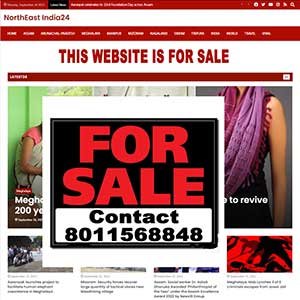 Guwahati: Assam police has declared  reward of Rupees one lakh each for information on absconded  Prashanta kr. Dutta, DIG(retd) and BJP Leader Diban Deka , in connection with Assam police exam paper leak case .
Altogether 19(nineteen) persons were arrested so far in connection with the leakage of question paper of written examination of SI(UB) by CID, Assam, City Crime Branch and Nalbari Police.
In a press meet addressed by the Director General of Police, Assam Bhaskar Jyoti Mahanta with ADGP(L&O) G.P. Singh, M.P. Gupta, Commissioner of Police, Guwahati and Surendra Kumar, IGP(CID) today, it was informed that on 20-9-2020 (07:30 PM), the complainant Pradeep Kumar, Chairman, State Level Police Recruitment Board, Assam, lodged a written FIR at Criminal Investigation Department (CID), Police Station in connection with leakage of question paper for the written examination for recruitment of 597 posts of Sub-Inspectors (UB) in Assam Police.
The examination was scheduled from 1200 hrs to 1500 hrs on 20-09-2020. The question paper was circulated on Whatsapp before commencement of the examination.
A case vide CID PS Case No. 21/2020 u/s 120B /406 IPC R/W Sec. 66B I.T. Act has been registered on 20-09-2020 on the basis of the FIR submitted by Pradeep Kumar.
The investigation has been entrusted to one Dy. SP rank officer assisted by three Inspectors and one SI(Programmer). Four persons have been arrested so far by CIDs, They are Hirakjyoti Baruah (26 years)  Mailoo Bazar, Kheroni, West Karbi Anglong,  Rupam Deka, Village – Balowa, Belsor Police Station, Nalbari district, Manager of Hotel Bhargav,  Rituraj Bora, Village – No.1 Jarabari PS – Narayanpur, Lakhimpur  and Joydip Borooah @ Jumu, 33 years, Chandmari, Nabagiri Path, H/No. 14, P.S Chandmari, Guwahati.
During medical examination, Joydip Borooah was found to be Covid19 positive and he was shifted to GMCH , Guwahati.
On 23-9-2020 and 24-9-2020, searches were conducted in the residence of P.K. Dutta located at Rupkonwar Path, Hengrabari, Dispur, Guwahati and two hotels located at Lokhra Chariali and Betkuchi by CID. During search, many incriminating items were recovered.
From hotel Bhargav Grand, Betkuchi  Cash amount of Rs. 5,50,000/, Guest Registration Cards of candidates, and from hotel Bhargav, Lokhra Chariali -Burnt flex banner, 445 admission forms, 01 draft copy of advertisement/leaflet written in English and Assamese regarding admission/training of aspiring candidates of SI(UB) in Assam Police, Money receipts from candidates for admission, etc recovered
From Residence of P.K Dutta  police recovered/ seized  Gold ornament weighing 1.522 kg., One .32 pistol with four rounds( licence has already expired), E-Admit Card of candidate, etc.
The recovery of the above- mentioned items point towards the involvement of P.K. Dutta and his associates in running an office and conducting training to candidates which is a pretext for approaching candidates and demanding money from them for illegal appointment as SI in Assam Police.
On the other hand a SUO-Moto case was registered at Crime Branch Police Station, Guwahati Vide Crime Branch PS Case No.13/2020 U/S 418/420/120(B) IPC based on reliable information regarding canvassing for job for the written examination for recruitment of SI(UB) of Assam Police which was held on 20-09-2020. In course of investigation 9(nine) nos. of accused persons has been arrested so far.
Pranjal K Sarma, S/O Lt. Ajay Kr. Sarma, R/O- H/No.14, Panipath, Ambikagiri Nagar, R.G. Barua Road, Guwaahati.
Alakesh Baishya, S/O Lt. Motiram Baishya, R/O-Salbari, Noonmati(Near Namghar), Guwahati.
Pranab Borah, S/O Lt. Tilak Chandra Borah, H.No.44, Alok Nagar, Bishnu Rabha Path, Beltola Tiniali, Guwahati.
Bimal Thapa, S/O Bhim Bahadur Thapa, R/O-H/No. 15, Ambikagiri Nagar, Zoo Road, Geetanagar, Guwahati.
Dhrubajyoti Das, S/O Sukro Das, R/O- Vill-Bhelaguri, PS- Patacharkuchi, Barpeta.
Ashok Das, S/O Kapil Das, R/O-H.No. Vill- Jalimura, PS Kamalpur, Kamrup(M).
Sanjib Sarma, S/O-Lt. Brahmananda Sarma, R/O-H.No.79, Kailashpur, PS-Noonmati, Guwahati.
Jugami Brahma@Jugamaya, D/O- Bonomali Choudhury, Add. Irrigation Colony, Ulubari, Guwahati, Permanent address-No1 Batamari, Udalguri.
Kushal Das, S/O- Babul Das, Address-Bamundi, Sualkuchi, Kamrup(R).
It was also disclosed in the press meet that after the cancellation of SI exam one name Kumud Goswami of Tihu came into light on whom a case was registered in Crime Branch, Guwahati, Nalbari Police enquiring more into the events, one culprit Kuldeep Rajbongshi was found involved as the main agent of Kumud Goswami.
He was  arrested after finding sufficient evidences, physical and documentary. A complainant named Dhrubajyoti Barman approached Nalbari police stating that he was offered job in lieu of money by the agent Kuldeep Rajbongshi . Hence, a case was regd. Vide Nlb PS C/No 507/20 u/s 120(B)/418/420/406 IPC on  25/9/2020.
On further enquiry to the case, various agents of the scam and job seekers who paid money to buy a post were identified and operations were carried out within and outside Nalbari district for their apprehension. Till now the following persons were arrested by Nalbari Police in the case:
1.kuldeep Rajbongshi, S/o Uttam Rajbongshi, Near Nalbari Law College
Mrudul Barman , 25 yrs, S/O Mahesh Barman, Bill: Makhibaha, PS: Tihu
Partha Pratim Pathak , 25 yrs, S/o Lt Bijay Pathak, Vill: Makhibaha, Tihu
Dhrubajyoti Barua, S/o Drive Dimbeswar Barua, Vill: Leza, PS : Kamalpur, Dist: Kamrup(R)
Sanjib Barman, 25 yrs, S/o Biren Barman , Vill: Belsor, Pathakpara supa, PS: Belsor, Nalbari
6 Harkan Ali, 25 yrs, S/o Ashraf Ali, Vill: Bhangnamari, pS: Bhangnamari
Sufficient evidences were found against them. Even sample of leaked question paper was found in the cell phones and laptops used. Further investigation is going on to trace out the escaped agents and others.