Assam
Give us Rs 5 Cr or face encounter, extortion racket ran by group of police officers busted in Assam
Assam police arrested all of them and sent behind bars.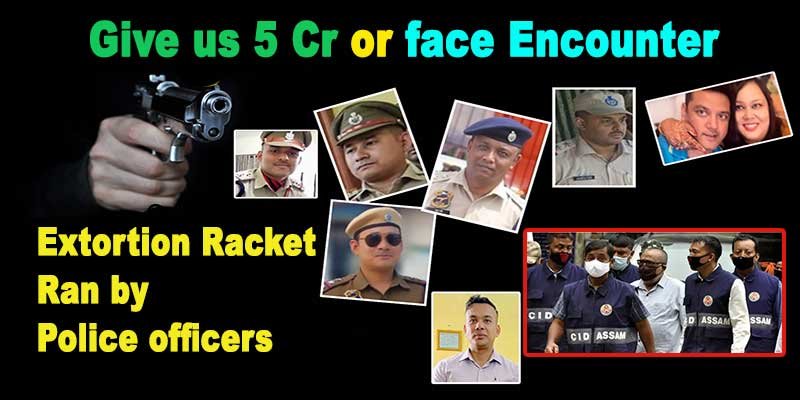 GUWAHATI-   Assam police busted a extortion racket which was running by a group of Assam Police officers including a IPS officer. Assam police arrested all  of them and sent  behind bars.
Police officials said that this gang had threatened a businessman that if he did not give Rs 5 crore, he would be encountered. And it will be told that you (that businessman) had contacts with Jihadis of Pakistan and Bangladesh, that is why he was encountered.
when such actions of senior police officers come to light, it is natural for the general public to lose faith in the police. But don't panic, there is no need to get disappointed so quickly. Because right now there are some officers who will not let your trust be broken.
One such officer is GP Singh, DGP of Assam. When the DGP got information about this entire incident, he did not try to suppress the incident at all, but took action with full honesty and arrested all the police officers, including an IPS officer, DSP, police station in-charge and driver.
The issue of dark deeds of these police personnel came under investigations when a businessman named Rabiul Islam filed an FIR, complaining that he was falsely implicated in a criminal case by some police officers. Rabiul Islam also claimed that police officers had threatened him of dire consequences and demanded crores of rupees as bribe.
Rabiul's complaint form
Rabiul Islam has said in his complaint that a person who calls himself an encounter specialist threatened him. Then on July 16, the police entered his house at around 1:30 in the night. Took him out and started interrogating him about drugs and money. Rabiul said that he did not know anything about this.
Rabiul alleged in his complaint that the police officers beat him for at least 2 to 3 hours. Kept punching and kicking them. His house was searched without warrant and many items were seized.
Rabiul further said in his complaint that after this the police officer took him and his two relatives to Bhavani police station. Here he was taken into custody. The next day in the afternoon he was taken to the SP's house. Here the SP asked where he had kept the illegal goods? Even during interrogation, the police officer allegedly beat him several times.
Rabiul alleged that after this he was taken back to the police station. And he was beaten once again.
Threat of encounter and demand of Rs 2.5 crore
Late the same day, the officer in charge of Bhabanipur police station took him in a vehicle. There were three persons in the car. Two were in plain clothes and one in police uniform. These people took him to the detergent factory. Rabiul alleged that here he asked him to run away. They said that on the orders of a senior police officer of Assam they would shoot me.
Rabiul further said that at this time a man came who was following us. He came to Rabiul and asked him to confess his relations with the Jihadis and also admit that he had acquired all his property illegally.
When Rabiul did not agree to his condition, the man took out his handgun and threatened to shoot him. He asked for Rs 2.5 crore from Rabiul. He said that he is an encounter specialist.
He told Rabiul that by telling the police that he had links with Pakistani and Bangladeshi jihadis, it would be shown as an encounter.
ASP asked for Rs 2.5 crore separately
Rabiul further said in his complaint that seeing his death in front of him, he got scared and agreed to the demand for money. He claimed that he gave Rs 10 lakh in cash and two more 21 blank checks of Rs 10 lakh each bearing the signature of Russi's mother. But even after that he was not released.
The story of fund raising by these police personnel goes on further. In his allegation, Rabiul further said that ASP Gayatri Sonowal separately asked for Rs 2.5 crore. After this he was allowed to go.
But now the story took another turn, due to which Rabiul remained in constant fear of being encountered. After July 31, two people claiming to be close to the SP started calling his family. He said that the money should be sent directly to the SP.
Rabiul finally got fed up and lodged an FIR. Right from the beginning, truth started appearing in his complaint and the case was handed over to the CID department.
The action escalated and on September 4, Assam Police arrested Bajali SP Siddharth Buragohan, a 2014 batch IPS officer. A suitcase hidden from his house has also been recovered, in which a huge amount of more than ₹ 64 lakh was kept.
The names of the police officers now arrested in this case are as follows.
Siddartha Boragohain, SP Bajali
Gayatri Sonowal, Adl SP and her husband Subhash Chandra
Pushkal Gogoi, DSP, Bajali
SI Anup Jyoti Patiri, O/C Patcharkuchi PS
SI Debajit Giri, I/C Bhawanipur OP
ASI Sasanka Das, Patcharkuchi PS
Constable Injamamul Hussain, PSO, Gyatri Sonowal
HG Deepjoy Kalita, driver SP Bajali
HG Nabir Ahmad, part time driver SP Bajali
Friends, this was the story of an extortion racket being run by some police officers. But as Gurmeet Singh was saying in his press conference, just because some officers become corrupt, the entire department does not become corrupt. This is a living proof of the Assam Police itself, which has taken action against its own senior officers, which is also being praised.
Please do write your opinion about this action of Assam Police in the comment box. Like Chhinal, share as much as possible. To support me, you can become a member by pressing the join button or you can also help through super chat.
That's all in today's video, we will meet again in the next video and tell you what India is saying. Till then, hello.