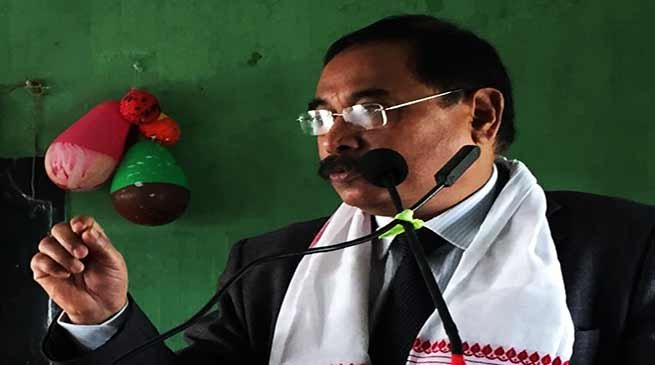 Family planning is not a red flag in Islam , Islam endorses family planning and birth control. Holy Quran endorses monogamy.- Prof Ilias Ali
Guwahati
Speaking as Chief Guest at a seminar on Population explosion and the Muslim community organized by Sontali Anchalik College in collaboration with Morakalahi Beauty Club, Kamrup, Al- Amin Social Welfare Society, Guwahati and Global Hospital of Surgery, Guwahati, Prof. Dr. Ilias Ali, noted Surgeon of the North East and Demographic activities said –"the Earth is over-burdened with a human population of over 7.6 billion with perilous environmental and ecological consequences. As is evident, the Earth is pummeled by high-magnitude tremors, ravaging hurricane and many other forms of natural disasters with alarming regularity, unprecedented in the history of mankind. This is nothing but a harbinger of the full fury of Mother Nature that awaits the human race".
Addressing the attending Muslim students, teachers and other dignitaries, Prof. Dr Ali, a devoted Muslim, said 'there is indubitable evidence that in various pockets of Assam, specially in the remote and underdeveloped areas inhabited by Muslim of immigrant background, thriving illiteracy, under age marriage, polygamy and religious prejudice are the main reasons behind the spiraling population growth and also the prevailing conflict with indigenous population of Assam.
Prof Ali, further added that there is a prevailing perception that family planning is a red flag in Islam and it is deviant from the teachings of the Quran and the Hadith. In fact, this is a misconstrued notion, devoid of any sanction from the holy text of Islam. To the contrary, Islam endorses family planning and birth control. Citing various verses from holy Quran and Hadith Prof Ali sail that   family planning and family welfare is the essence of Islam. Islam always advocates for quality not the quantity of the children. Unfortunately majority our people are not aware of this. He urged the gathering   to come forward and join hand with others to curb the rapidly expanding population of their community.
Speaking on polygamy Dr Ali said –' in normal situation the Holy Quran endorses monogamy only, neither bigamy nor polygamy. Muslim countries like Turkey and Tunisia have banned bigamy or polygamy and it is subject to administrative or judicial control in Egypt, Syria, Jordan, Iraq, Yemen, Morocco, and even in neighboring countries – Pakistan and Bangladesh. In general, vast majority of Muslim people of our country condemn bigamy or polygamy but unfortunately this filthy practice has still prevelent widely  in Char areas Assam. He urged the students and teacher to start a social movement without further delay to fight against this curse of their community.
The seminar was chaired by Mr Abul Kalam Azad, the principal of the college and attended by imminent persorns namely Dr T R Barbora, retired pricipal of Assam Medical College, Mr Hasinur Rhman retired managing director of minor irrigation, Mr Nurul Hoque retired IAS and others.
Sontoli, a remote area of Kamrup district, Assam is inhabited  mostly by minority Muslims of emigrant background.