Assam
Assam flood: Death toll reaches 8, over 4 lakh affected
Army rescued 300 villagers from flood hit Hojai
GUWAHATI/ TEZPUR- Flood situation is still grim in Assam. A government statement on Tuesday said three more people died due to the calamity, taking the total to eight. An Assam State Disaster Management Authority (ASDMA) bulletin said the number of affected people has reached 4,03,352 across 26 districts from 1,97,248 in 20 districts on Monday.
Rail and road links to Barak Valley and Dima Hasao district were snapped after heavy landslides in Assam and neighbouring states of Tripura, Mizoram and Manipur. Landslides also wreaked havoc in Arunachal Pradesh and Meghalaya, snapping road connectivity in many areas.
Also Read-  highlands constructed in Kaziranga for providing shelter to Animals
Cachar is the worst-hit district with 96,697 affected people while 88,420 and 58,975 people are reeling under the deluge respectively.
The Regional Weather Forecasting Centre, Guwahati, has issued a warning for "very heavy" rainfall in Assam till Wednesday, along with widespread rain across the state for the next five days.
Also Read- Floods situation in Assam grim; Army launched relief operations in Cachar
Close to 40,000 people have taken shelter in 89 relief camps in different affected areas.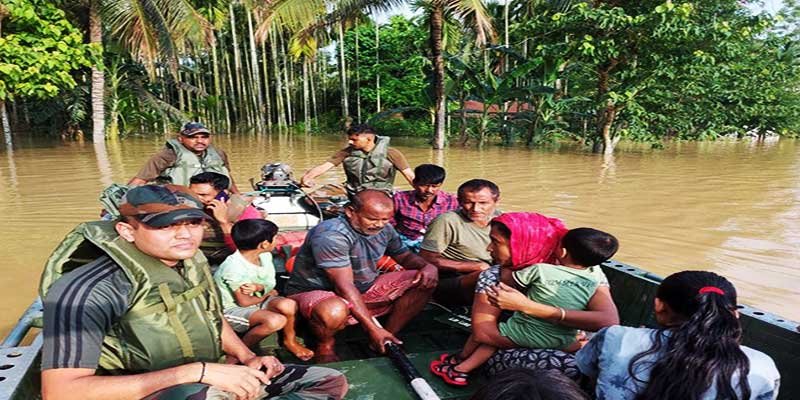 Eleven embankments have been breached since Monday, while another six have been affected, besides damages to houses, roads, bridges and other infrastructure.
Two columns of Blazing Sword Division of Gajraj Corps with Engineering and Medical components from Tezpur and Missamari Garrison have been mobilised to carry out flood relief operations in Hojai  District on evening of 17 May 22, informed Lt Col AS Walia, Public Relation Officer, defence.
Also Read-  NF Railway evacuates all stranded passengers
Unprecedented rains had warranted immediate rescue and flood relief operations. Based on urgent requisition, a swift and coordinated action was carried out by the teams to rescue precious lives caught in the flood. Priority was given to women, the elderly & young children.
Also Read-  Rain, landslide wreak havoc in Dima Hasao. Army, Air Force called in to rescue stranded passengers
The timely and swift action resulted in lives being saved and a major disaster being averted. A total of approximate 300 villagers were rescued by Army troops till 10 am of 18 May 22.
Rescue efforts are ongoing in coordination with Civil Administration and the  locals have appreciated the service rendered by Army.