Assam
Assam: Indigenous games inextricably linked to our culture- DC Adil Khan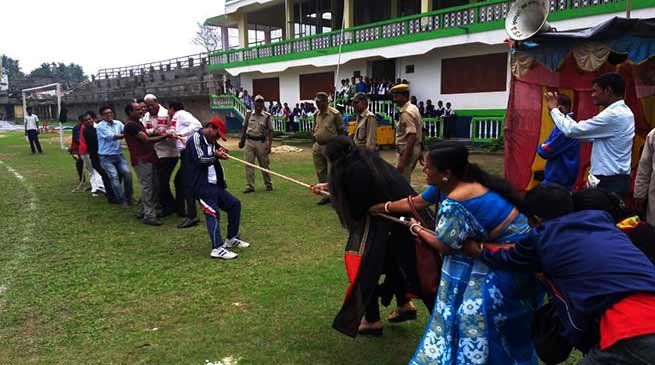 Hailakandi
Along with the rest of Assam, Hailakandi also organised the All Assam Indigenous Sports Festival 2018 at DSA playground here on Friday.
Inaugurating the sports event at the district level, Deputy Commissioner Adil Khan said indigenous and traditional games and sports are inextricably linked to our culture and promoting these games paves the way for strengthening our cultural affinity, unity and amity.
Appreciating the laudable step by Government of Assam to revive the indigenous games, Khan said, "I also played traditional games when I was in my teens. However, such games have either faded into oblivion or relegated to the backburner. It's good to see the indigenous games being revived and promoted among the youths at the district level and then to the State level, thanks to the initiative of the State Government."
Khan said rules have to be codified and institutionalised to promote the traditional and indigenous games in a big way.
The Deputy Commissioner appreciated the efforts of the District Sports Officer to organise the festival within a short period of time.
Extending his best wishes to the participants, Khan hoped the festival will not only go a long way in promoting the indigenous and traditional games but also create camaraderie and bonhomie among the participants. "Play with sheer gusto and enthusiasm. It's your participation that will help to promote the indigenous games in a big way," he said amid cheers from the participants, mostly school students.
Echoing the views of Khan, Professor Monidhan Singha of SS College, Hailakandi said, "I am elated that some of the traditional and indigenous games sidelined in the past are being revived and promoted by Government of Assam."
Dwelling at length on the origin of polo, wrestling and kabaddi in rural India and how these traditional games have acquired international status, Dr. Singha said, "The indigenous games have to be patronised and promoted on a grand scale so that they acquire international recognition."
Dr. Singha said indigenous and traditional forms of sports and games help in connecting with our culture and are closely linked with the human resource development of a society. "These games demand a high level of physical fitness, sheer stamina, resilience, tenacity, speed techniques and self control."
Former President of District Unit of BJP, Khitish Ranjan Paul, Vice President of District Unit of BJP, Hirakjyoti Chakraborty, District Sports Officer, Jimli Borah, Assistant General Secretary, District Sports Association, Samsuddin Barlaskar, Principal, Public HS School, Sirajul Islam Mazarbhuiya, among others, were present on the occasion.
Demonstrations and competitions on different forms of indigenous and traditional games and sports such as pesi te ongpu (tug of war), kukura juj (cock fight), kori khel (seashell game), banana tree climbing (smeared with oil) and one leg race were held on the occasion.
 Medals and trophies were given away to the winners at the end of the festival.