VIRAL
Northeast- News in Brief, 6th April 2016
ADVERTISEMENT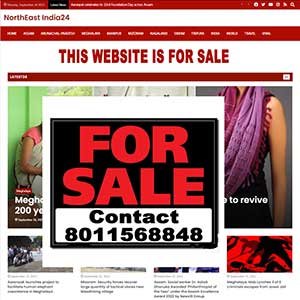 Northeast- News in Brief is a unique post by

 Northeastindia24.com  , 

which will cover even the smallest of event that has occurred at any corner of the northeastern states of India . You can also send us news/ happenings/events of your area as a citizen journalist. Click here and send your news

 mailto:northeastindia24@gmail.com
Guwahati (Assam) – AGP Rally
The Asom Gana Parishad (AGP), has announced to go alone in the upcoming panchayat polls in Assam.  Addressing the booth workers' at a rally in  Khanapura field on Thursday, AGP leader Keshab Mahanta said, 'We have decided to contest the Panchayat Elections alone but this rally doesn't mean we are breaking alliance with BJP."  The regional party also held meeting expressing concern over rise in crimes against women in Assam and sought a strong law to curb such crimes.
Guwahati ( Assam ) –  Bill to rise salaries of Lawmakers 
The State Government on Thursday  introduced three Bills in the Legislative Assembly for revision and enhancement of salaries and allowances of the Chief Minister, ministers, Leader of Opposition, Speaker, Deputy Speaker and MLAs. The salary of the Chief Minister is proposed to be revised to Rs 1.30 lakh per month from the existing Rs 90,000. It also proposes to enhance the CM's Parliamentary Assistance Allowance to Rs 10,000 per month, and the Sumptuary Allowance to Rs 24,000 per month.
Hailakandi  ( Assam )- Rs 4 lakh ex-gratia to kin of lightning victim
The Hailakandi district administration paid an ex-gratia of Rs 4 lakh to the next of kin of Minhajuddin Borbhuiya who died after lightning struck him on March 16. Circle Officer, Lala, Madhumita Nath handed over the cheque on behalf of the district administration to the victim's widow Humera Begum Borbhuiya at her residence on Wednesday. The people of Rajeshwar Revenue Circle of Lala thanked the district administration for acting swiftly in releasing compensation to the next of kin of the deceased.
Gangtok ( Sikkim ) – Ban on sale of non organic vegetable
The Sikkim Government had issued an instruction for 'organic Sikkim' which entails that the non-organic products will not be sold in the markets. The instruction had been issued by Sikkim's Home Ministry on April 1. This ban has left the merchants of Siliguri's Regulated Market worried. The All-Sikkim Traders' Association (ASTA), along with the Lal Bazaar Traders Association (LBTA), on Wednesday, marched in a rally to Krishi Bhawan here, demanding adequate supply of vegetables not only at Lal Bazaar in Gangtok, but across the state.
Shillong ( Meghalaya )- Fish production has doubled in Meghalaya 
Fish production has doubled in Meghalaya in the last five years, but it still imports 21,000 MT of fishes annually from Andhra Pradesh and Assam, the Assembly was informed. The state produced only 12,330 MT in 2016-17 while the total requirement was about 33,000 MT annually, Fisheries Minister Comingone Ymbon said during the Question Hour. "About 21,000 MT of fishes is met by importing from Andhra Pradesh and Assam," Ymbon said.
Itanagar ( Arunachal ) –
The chief minister Arunachal Pradesh, Pema Khandu while addressing the Mopin Festival celebration, said that , his  government is working hard on preservation of indigenous culture and informed that it has allocated Rs 6 crore for celebration of all local indigenous festivals, which is a huge increase from earlier allocation of Rs 1. 5 crore. This fund will be disbursed to all districts and then to all community based organisations.
Aizawl (Mizoram )- School at the age of 73 yrs
Lalringthara, a 73-year-old man in New Hruaikawn village in eastern Mizoram's Champhai district, is a living proof that it is never too late to learn. The septuagenarian has just been enrolled in the village's only middle school in the 5th standard to fulfil his lifetime desire to go back to school. Vanlalkima, the headmaster (in-charge) of the government-run school, said Lalringthara has a great passion for learning. "He is always thirsty for knowledge, to learn something new. Last year, he had applied for admission.
Kohima( Nagaland ) 
With an aim to promote cleanliness in Nagaland, the Swachhata Pakhwada (Cleanliness Fortnight) was launched at the Nagaland Health Authority, Kohima, on Monday. Launching the programme, Nagaland Minister for Health & Family Welfare S Pangnyu Phom said cleanliness is important not only for healthy living and spiritual development but also for environmental development. He said the Cleanliness Fortnight is aimed at bringing up new ideas, innovative structures and mechanism. The minister also encouraged doctors and nurses to start cleanliness drives at hospitals, dispensaries and health centres.
Agartala ( Tripura )- CM Appreciate Media 
Tripura Chief Minister Biplab Kumar Deb presented a vision for development of the State before media persons at the Agartala Press Club auditorium here recently.He asserted that his Government was appreciative of the importance of the media and its constructive role as the fourth pillar of democracy and added that his Government would not indulge in any partisanship in dealing with the media and its problems.
Imphal ( Manipur ) – CM Congratulates Mirabai Chanu 
Manipur Chief Minister N Biren Singh has congratulated star weightlifter Saikhom Mirabai Chanu for winning the first gold medal at the Gold Coast Commonwealth Games 2018 in Australia in the 48-kg category.In his tweet, Singh wrote, "Manipuri Meitei Ningol (meaning Manipuri daughter) Mirabai Chanu brings the 1st gold in 48 kg category weightlifting for India. We're proud of you for making India proud." State Sports Minister Letpao Haokio, in a message, said, "Saikhom Mirabai created history not only for Manipur but also for our country and entire Commonwealth Games fraternity."