Assam
Assam: Minister discussed the issue of caste certificates to Ahom community
Assam Government will form a committee to verify authenticity of caste certificates of Ahom community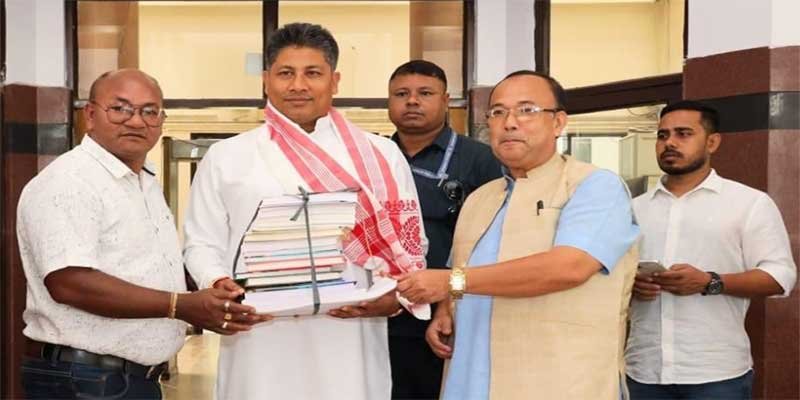 GUWAHATI-   Minister of Social Justice and Empowerment, Pijush Hazarika held a crucial meeting with the representatives of four organisations of the Ahom Community today at Janata Bhawan, in connection with the issue of caste certificates to genuine members of the Ahom Community.
The minister informed that " We addressed the challenges faced in issuing caste certificates to the Ahom community and discussed potential solutions".
Assam Flood Situation Worsens Again, Pijush Hazarika visits flood-hit Dhemaji
It was agreed upon to request the Government of Assam to establish a Committee comprising representatives from these organisations. This Committee will work towards resolving these issues with Cabinet approval in the coming days. We remain optimistic that this step will facilitate the Ahom community in obtaining their caste certificates, informed the minister.
During the meeting, the representatives apprised the Minister that ensuring the rights of the members of the Ahom community is of utmost importance at this juncture.
Addressing the issue, the Minister informed after thorough deliberations with the representatives that a new Committee to address the matter will be formed soon.
Underlining the importance of the challenges faced by the members of the Ahom community, the Minister further added that to expedite the process, the new Committee will be required to register under the Societies Registration Act of 1960 and a proposal will be submitted to the Cabinet for approval of the same.
The Minister hoped that this decision will largely benefit the people of the Ahom community in the days ahead in obtaining the caste certificates under a seamless process and that no genuine person will be deprived of their rights.
Assam CM announced redevelopment of Bhimashankar Jyotirlinga Complex with a cost of Rs 46 Cr
The meeting was attended by Binita Pegu, Secretary to the Government of Assam, Department of Tribal Affairs (Plain), Kulashree Nath, Director, Welfare of SC and other senior officials of the concerned Department.
After the meeting, Chao Pushpadhar Saikia, general secretary of the Purvanchal Tai Sahitya Sabha, led a group of delegates who presented a bundle of books as a gift. I express my sincere gratitude to all of them for this thoughtful gesture.