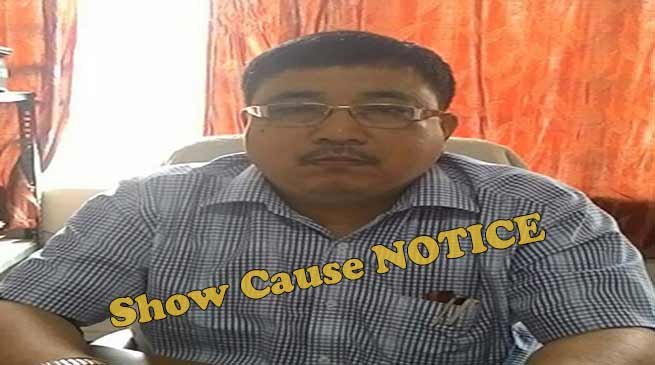 DC Hailakandi issues show cause to CEO, Zilla Parishad for gross misconduct, insubordination
---
Hailakandi
Hailakandi Deputy Commissioner Adil Khan has issued show cause notice to Chief Executive Officer, Zilla Parishad cum Project Director, DRDA, NK Shantee Kumar Singha for dereliction of duty, insubordination and gross misconduct.
Khan, who is also the Executive Director, DRDA and President, Zilla Parishad, directed Singha to reply as to why disciplinary action should not be initiated against him for his unauthorised absence from headquarters, insubordination and gross misconduct. Singha left for Delhi without intimating Khan and getting prior approval of his casual leave along with headquarters' leave permission from the Commissioner, Panchayat and Rural Development. Singha remained unauthorizedly absent from September 17 to 25. He was also conspicuous by his absence in the review meeting on Pradhan Mantri Awas Yojana (Grameen) convened by the Deputy Commissioner on September 20.
Moreover, Singha bypassed Khan's standing order issued on July 23 effecting transfer of charge of BDO, Katlicherra to BDO South Hailakandi Anjana Paul following the retirement of AR Choudhury. Singha removed Paul and put his blue-eyed man Dulal Ajam Sarkar at the helm of affairs by keeping Khan in the dark. Sarkar took over charge on September 12. Following this, Khan directed Singha to reply to the show cause notice as to why disciplinary action should not be taken against him for bypassing the competent authority, misleading the authority by concealing facts and for committing gross illegality in effecting the transfer of charge that tantamount to openly defying the authority.
Singha has been in the dock for performing poorly in implementation of PMAY(G) and other flagship schemes of Government of India.