Assam
Assam: Violation of model code of conduct will not be tolerated, DC Hailakandi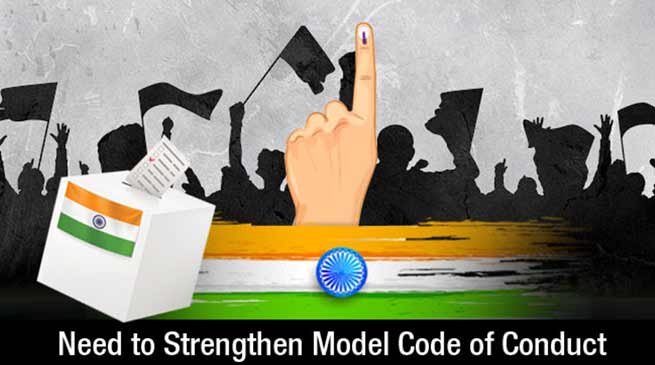 Violation of model code of conduct will not be tolerated, DC Hailakandi tells political parties,  candidates.
---
Hailakandi
Deputy Commissioner cum District Election Officer of Hailakandi district, Adil Khan, Thursday urged the political parties and contesting candidates to strictly adhere to the model code of conduct (MCC) guidelines for free, fair and impartial Panchayat election here on December 9.
DC Khan announced that so long the Model Code of Conduct was in force, the candidates and political parties have to follow its guidelines in letter and spirit. "Violation of model code of conduct will not be tolerated, " he said.
The DC asked the political parties and candidates not to canvass within one hundred yards of the polling stations and act in a disorderly manner within or at the entrance of the polling stations. Khan also asked them to refrain from illegal hiring or procuring of conveyances during election.
He said the administration will act tough if anyone holds public meetings on the day of polling or cause disturbances at election meetings.
"No violation of any provisions of the MCC will be tolerated at any stage of election process," he affirmed, and further stated that no party or candidate should indulge in any activity in violation of the model code of conduct.
The DC added that parties should refrain from invoking caste and community while asking for votes.
Khan asked the political parties and candidates in the electoral fray to make people aware about the election procedures.
He said awareness was must for mobilising people in huge numbers to cast votes. Khan also stressed on managing the expenditure within the prescribed limits during election campaign and following the guidelines of the Assam State Election Commission.
Khan assured them that adequate security arrangements for the candidates and voters will be put in place to ensure smooth elections while  'sensitive' and 'very sensitive' polling stations have been already identified.
The DC also equally asked the presiding and polling officials to desist from acting in favour of any candidate or to influence voting in any manner and for maintenance of secrecy of voting under different sections of the Representation of People's Act, 1951.
Campaigning for the second phase of rural polls comes to an end on December 7 at 3 pm. Hailakandi goes to polls along with nine other districts on December 9.
Second round of training of over 600 polling personnel has been going on from Wednesday. The district has 626 polling stations and 3,87,132 voters, of whom 2,13,309 are male and 1,73,823 female.