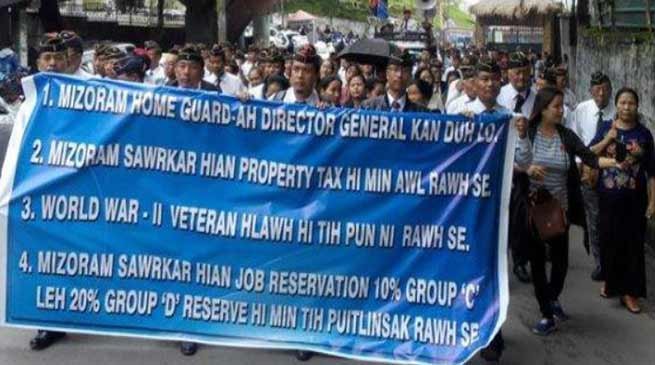 Mizoram Ex-Service League (MESL), held a rally in Aizawl opposing the creation of DG post under Mizoram Home Guard.
---
Aizawl
Ex-servicemen, under the banner of the Mizoram Ex-Service League (MESL), held a rally here today in protest against the creation of the Director General's (DG's) post under the Mizoram Home Guards, exclusively for the Mizoram Police Service (MPS).
The rally taken out from the Chandmari Point to the Vanapa Hall was also joined by wives and kin of the ex-servicemen.
Apart from opposing the creation of the DG's post, the protesters also demanded 10 per cent reservation in Group C posts and 20 per cent in Group D posts, a hike in the monthly stipends of World War II veterans and exemption from payment of property tax under the Aizawl Municipal Corporation for all ex-servicemen.
Addressing the rally, MESL president Col John Zama (retired) said that the State Government is to blame for passing an ordinance that "legalizes" the creation of the DG's post under the Mizoram Home Guards exclusively for the MPS.
He regretted that the agitation had to be launched due to the negligence of the Government towards the plight of ex-servicemen. Zama added that MESL leaders had met Chief Minister Lal Thanhawla and submitted representations to all the MLAs in connection with their plight, but to no avail.
According to Zama, the Mizoram Home Guards was started by 10 retired Army personnel in 1964 when Mizoram was still a part of Assam. Under the Home Guards department, posts of officers and junior commissioned officers (JCOs) are reserved for ex-servicement. The department was usually headed by an ex-serviceman and sometimes by an IAS officer in the absence of ex-servicemen officers.
Zama said that the Government had in August 2014 decided to create the DG's post in violation of the Mizoram Home Guards Act, 1985, which, he alleged, was an insult to the MESL and the Mizoram Home Guards Service Association.
According to the MESL leaders, there are 1,070 regular employees, 72 war veterans and 491 widows under the Home Guards department. They said that the war veterans receive a monthly stipend of Rs 1,200, while their widows receive Rs 1,000.
According to the 7th Central Pay Commission recommendations, the Centre has directed all the State governments to raise the monthly stipend from Rs 6,000 to Rs 10,000, they maintained.
During the rally, the protesters shouted slogans against Mizoram Home Minister R Lalzirliana for "showing no concern" towards the welfare of ex-servicemen.