Tripura
Tripura: CM inaugurates rail tank wagon to end fuel crisis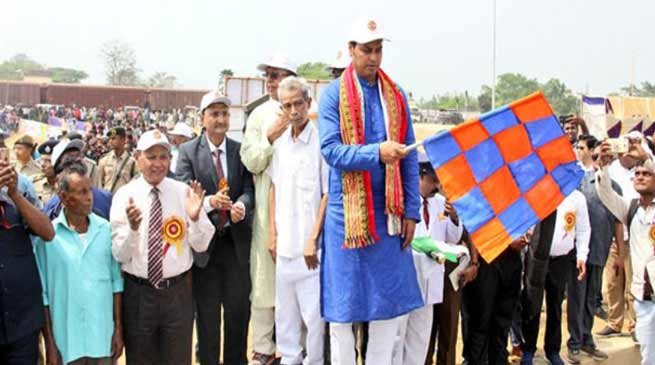 Agartala
In order to put an end to the fuel crisis, Tripura Chief Minister Biplab Kumar Deb flagged off the first ever train to introduce rail tank wagon unloading facilities at Agartala.
Tripura was once reeling under huge crisis of fuel as supply from the neighbouring states stopped due to dilapidated condition of roads and highways.
Normal life was highly affected as people were compelled to stand in long queues for their turn to fill petrol outside filling stations.
The initiative was brought to light to put an end to a decade long fuel crisis and in Tripura.
Biplab Kumar Deb recently flagged off the first train Indian Oil, POL depot at Dharamnagar in Agartala.
The introduction of the rail tank wagon is a game changer, in terms of availability of petrol and diesel.  A total of 26 tanks arrived which can accommodate 17, 60,000 litres of oil.  In these tanks a stock of petrol for three months can be stored.
Availability of fuel in the state will be doubled in comparison to earlier years as both truck and train will be used as a means of transport for unloading fuel tankers in the state.
"Every day 600 kilolitre of petrol and diesel is consumed in the state. Material will be available to us easily for one day and moreover there will be no more fuel crisis due to dilapidated condition of road and there will be easy access of petrol and with the completion of depot in Sekurkut. Adequate amount of fuel would be there. The 12-year crisis of fuel in Tripura will no longer exist in the state and people would no longer face problem of standing in long queues,"
Further, Deb expressed his gratitude to Prime Minister Narendra Modi and the Ministry for Development of North Eastern Region for announcing a 100% grant for northeast.
He reiterated that with the help and support of the centre, Tripura will attract more investments and will grow in every aspect in the near future.
An amount of Rs 24 crore has been spent for the entire construction of the tank wagon.