Tripura
Tripura Elections 2023: LIVE Updates
Votes will be counted on March 2.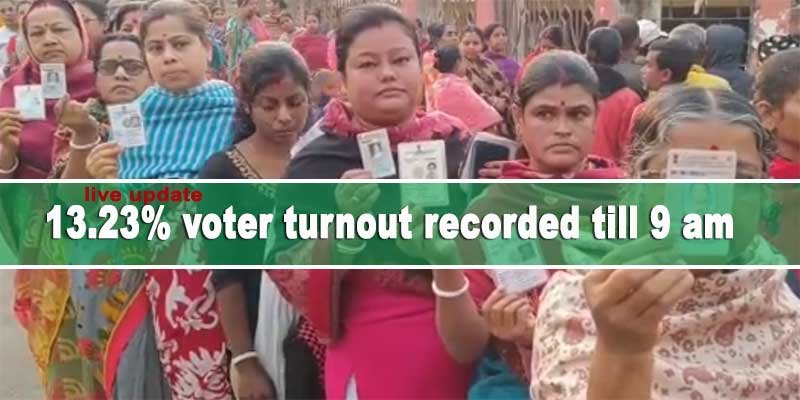 Tripura Elections 2023:    Elections to the 60-member Tripura Assembly started today morning.  The voting will be held under tight security between 7 am and 4 pm at 3,337 polling stations, out of which 1,100 were identified as sensitive and 28 as critical.
The main contestants of the elections are the BJP-IPFT combine, CPI(M)-Congress alliance and the Tipra Motha, a regional party formed by the scion of the northeastern state's former royal family.
According to Election Commission, over 28.14 lakh electorates of which 14,15,233 are male voters, 13,99,289 are woman voters and 62 are of the third gender, are eligible to cast their franchise.
The state has 97 all-women-managed police stations. It has 94,815 voters in the 18-19 age group and 6,21,505 in the 22-29 age group. The highest number of voters are in the 40-59 age group at 9,81,089.
The fate of the 259 candidates will be sealed on 60 Assembly seats today. Votes will be counted on March 2.
TRIPURA ELECTIONS LIVE UPDATE- 
05:00 PM-  Tripura reports 81.1% polling till 4pm, says state chief electoral officer.
04:00 PM- Tripura Congress & BJP units, BJP general secretary Dilip Saikia get EC notice-   Tripura Congress & BJP units, BJP general secretary Dilip Saikia got EC notice for seeking votes on Twitter when polling was under way, reported news agency PTI.
03:30 PM –  69.96% voter turnout recorded till 3pm-    According to election officials, the voter turnout in the state was 69.96% as of 3pm, which is relatively slow. Despite this, there are still a significant number of voters waiting in queues at many polling stations during the last hour of voting. Officials predict that the final voter turnout may exceed 85%.
03:00 PM-  Office of the chief electoral officer sends notices to Tripura Congress and BJP for "an appeal for vote in the favour" of their own parties tweeted from their official handles after the imposition of Model Code of Conduct.
12:00 NOON – CPI supporter beaten up outside Kalacherra polling station-   One CPI supporter was beaten up outside Kalacherra polling station in 36-Shantirbaazar constituency in South Tripura, police said.   "He has been taken to hospital by our officials. Suo motu FIR has been lodged in Shantirbaazar PS. We'll arrest the culprits soon," SP South Tripura said, as quoted by news agency ANI.
11:30 AM –   Manik Sarkar alleges attack on the polling agents of the Left – Former Tripura chief minister Manik Sarkar has alleged attack on polling agents of the Left, claiming they were "thrown out" of polling booths in Dhanpur. He also alleged violence at Udaipur in Gomati district. Sarkar earlier voted in Agartala.
10:45 AM-   former CM Manik Sarkar casts his vote in Assembly elections
10:30 AM- 2 CPI(M) polling booth agents injured in an attack in Gomati district. Two CPI(M) polling booth agents, Amit Kumar Bhowmik and Rafiqul Islam injured in an attack at Kakraban in Gomati district. Both wounded agents have been rushed to the district hospital.
09:40 AM- Elderly Voters being facilitated by security personnel at the Polling stations in Tripura.
09:30 AM- 13.23% voter turnout recorded till 9 am.
09:00 AM- Pratima Bhoumik – Key candidate  :   The BJP has fielded Union Minister Pratima Bhoumik from the Dhanpur constituency. Bhoumik is the first woman from Tripura to become a Union minister. Tipra Motha has fielded Amiya Dayal Noatia against Bhoumik in the seat.
08:45 AM-  Long queue of Women voters seen in a polling booth area in Ramnagar Assembly Constituency in West Tripura district on February 16, 2023.
08:30 AM – Tripura Chief Minister Dr. Manik Saha just cast his vote at Tulsibati Higher Secondary School in Agartala. He is contesting from Town Bardowali Constituency jn Agartala. His nearest rival is Ashis Saha of Congress.
08:15 AM-  PM Modi appeals to 'vote in record numbers'.
Urging the people of Tripura to vote in record numbers and strengthen the festival of democracy. I specially call upon the youth to exercise their franchise.

— Narendra Modi (@narendramodi) February 16, 2023
Union Home Minister Amit Shah on Thursday urged all citizens of Tripura to cast their votes as the polling for the Tripura Assembly elections began on Thursday amid tight security."Urging our sisters and brothers of Tripura to cast their vote to ensure that a development-oriented government is formed and the era of peace and progress that has already started continues smoothly. Come out and vote for a prosperous Tripura," Mr. Shah tweeted.