India
United India Rally: Opposition leaders call to remove BJP Govt from centre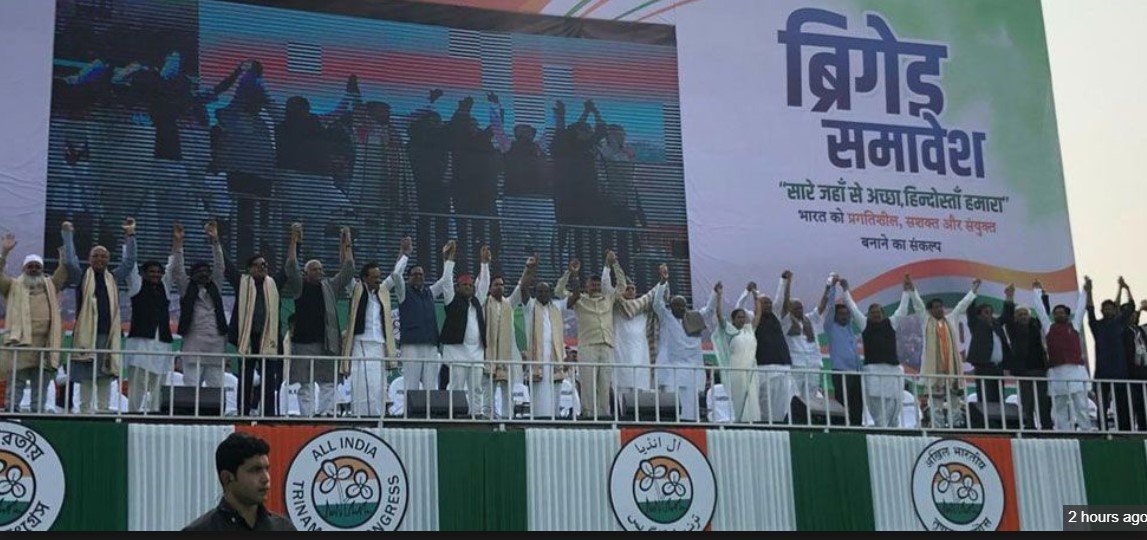 In this United India rally, opposition leaders unanimously expressed their desire to remove the BJP government led by Prime Minister Narendra Modi.
---
Kolkata 
By Sanjay Kumar 
Responding to West Bengal Chief Minister Mamata Banerjee's call, opposition leaders from across the country, including a former Prime Minister and three sitting Chief Ministers, came together in a show of political unity against the Bharatiya Janata Party (BJP) in Kolkata on 19 January.
In this so-called ' United India' rally, together, the leaders presented a show of unity –and unanimously expressed their desire to remove the BJP government led by Prime Minister Narendra Modi.
Over 20 leaders from more than ten parties attended the rally. Among them was a former prime minister, and several current and former chief ministers and stalwarts from various political outfits from across the country.
Former BJP leader Yashwant Sinha and rebel BJP MP Shatrughan Sinha were also present at the rally. Both are known for their anti-Modi views.
Every leader in attendance spoke – their focus on removal of Narendra Modi as Prime Minister, BJP chief Amit Shah, Electronic Voting Machines, rising communalism, demonetisation, GST and farmers' issues.
Delhi Chief Minister Arvind Kejriwal said the 'jodi' of Modi-Shah had "done in five years what Pakistan could not do in 70 years – divide India". If these two come back again in 2019 then this country will not survive," he said in a his speech.
Former Arunachal Pradesh Chief Minister Gegong Apang, who left the BJP after a four-year association earlier this week, said that it is "testing time" for India's democracy.
"The people in Delhi are dividing the country, especially the Northeast. The Citizenship Amendment Bill is an example how a political party is dividing the country," Apang, who was the longest-serving Chief Minister of Arunachal, said
The Citizenship Amendment Bill was also raised by Zoram Nationalist Party leader Lalduhawma, who said that India will no longer be the place that it used to be if the Bill is enacted.
Lalduhawma, the Leader of Opposition in the Mizoram Assembly, demanded that the Bill is withdrawn or exemption given to the Northeast.
The two sitting Chief Minister from the south – TDP's N Chandrababu Naidu and JD(S) HD Kumaraswamy – accused the BJP of corruption and playing divisive politics.
"They want to divide India, we want to unite India. Save India, save democracy," Naidu said.
Kumaraswamy said that while the BJP speaks on eliminating corruption, it indulges in horse trading in Karnataka, referring to the ongoing political crisis in his state. "This shows BJP's double standards," he said.
Though Congress chief Rahul Gandhi and UPA chairperson Sonia Gandhi skipped the rally, the party deputed senior leaders Mallikarjun Kharge and Abhishek Manu Singhvi.
Both Kharge and Singhvi, in their respective speeches, targeted the BJP over a host of issues ranging from the Rafale deal to communal politics.
Speaking at the Brigade Ground today, Samajwadi Party (SP) chief Akhilesh Yadav, who recently formed an alliance with BSP, accused the BJP of "forming alliances" with government machineries to threaten political opponents.
"As elections are approaching, you're forming alliances with CBI and ED while we're forming alliance with people of India," he said.
He also clarified that the question of Prime Minister is not on the minds of the coalition partners.
"To trouble us, they (BJP) say we've a lot of contenders for PM's post. We say people will decide who'll become PM," he said.
National Conference chief Farooq Abdullah drew attention to the volatile situation in Jammu-Kashmir. He said that every Kashmiri wants to stay with India but BJP has branded the Kashmiris as traitors.
"They are responsible for the dire situation of J-K. We have to wipe out BJP to spread harmony," Abdullah said as his son, Omar, looked on.
Abdullah also urged the leaders at the rally to approach the Election Commission and the President of India to get the Electronic Voting Machines (EVMs) removed.
"They must remove the EVM. This is a machine that steals votes," he said.
In a sharp attack on his own party, rebel BJP MP Shatrughan Sinha levelled a series of allegations against PM Modi without naming him.
"If speaking truth is rebellious, then I am a rebel," he said. Sinha claimed that even Finance Minister Arun Jaitley was unaware of demonetisation.
"This was not a party decision else all BJP leaders, including myself, would have known about it. Hundreds of crores went away in a poof. And then the GST did the rest of the damage," he said.
Sinha's sharpest attack came when he raised the Rafale deal issue, which the Congress claims is a scam.
The rebel BJP leader from Bihar, in his characteristic style, said that key questions raised by the opposition on the deal must be answered else "people will say 'Chowkidar hi Chor hai'".
Speaking last, TMC chief Banerjee said that the situation in the country is far worse than the Emergency under the Indira Gandhi regime.
"Bengal has shown the path to India's Independence. Whenever there has been a threat to the nation, Bengal has shown the path," she said adding that the "expiry date" of the Modi regime is near.
Accusing the BJP of destroying the democratic institutions in the country, Banerjee said that the Centre is also playing politics with our forces.
Banerjee said that more such meetings will be held elsewhere in the country to consolidate a powerful opposition to take on the BJP-led NDA government in 2019.