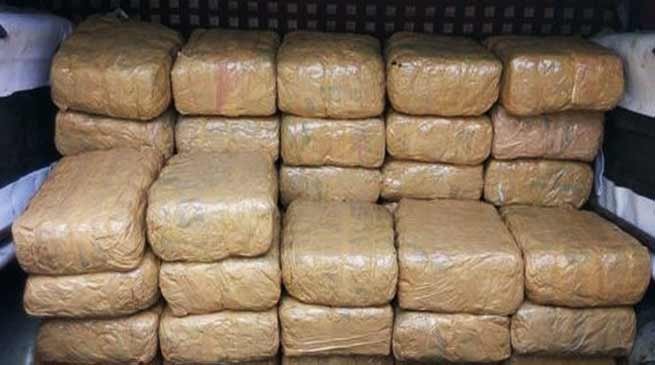 Guwahati
The Directorate of Revenue Intelligence (DRI) has seized 763 kg of  ganja (cannabis) from smugglers in Assam, according to an official statement issued today.
Acting on intelligence input, the DRI with the assistance of Assam Police on Thursday intercepted a truck on the Harmuti-Doimukh Road under Laluk police station of Lakhimpur district in the state and recovered 763 kg ganja worth about Rs 38 lakh from the vehicle, it said.
Two persons hailing from Papum Pare district of Arunachal Pradesh have been arrested in connection with this case, the DRI statement said.
The Ganja was being transported from Arunachal Pradesh to Assam, it said.
This is the second such incidence of seizure of ganja in Assam originating from Arunachal Pradesh that has been detected and seized by DRI in the recent times, the statement said.
In January this year, DRI had seized 470 kg ganja from the same area. In that incident too, the seized cannabis was found to have been sourced from Arunachal Pradesh.
Organised cultivation and harvesting of ganja for commercial purposes in Arunachal Pradesh is a new trend, as most of the seizures by DRI indicate that Ganja was from Tripura or Manipur, the agency said.
In the current financial year till date, in the region spread over the states of West Bengal, Sikkim and the North Eastern states, about 8,250 kg ganja has been seized by the DRI so far, of which, more then 7,250 kgs of cannabis has been seized in Assam in seven separate cases