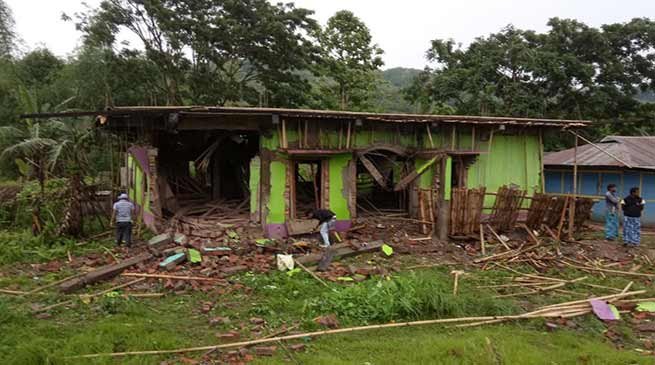 DC, SP Hailakandi hold talks with Kolashib counterparts; both sides decide to beef up security.
---
Hailakandi
Following a blast at a mosque at Kachurthal along the Assam-Mizoram inter-state border, Deputy Commissioner, Hailakandi, Keerthi Jalli rushed to the site in the wee hours on Friday.
The blast took place at around 2.15 am on the Assam side of the border. No one was around when the blast occurred.
Accompanied by SP Mohneesh Mishra, DC Jalli visited the site of the blast that damaged the mosque.
She had a meeting with her Kolashib counterpart and SP close to the inter-state border. Both the sides decided to beef up security and patrolling following the incident and to make all out efforts to nab the miscreants behind the blast.
Later DC and SP assured the people that security would be beefed up with patrolling round the clock. Both the district heads appealed to the people to maintain peace and to live in peaceful coexistence with the people on the other side of the border.
On the plea of Jalli and Mishra, the people who resorted to road blockade since morning withdrew it.
The local people demanded that a permanent camp of the 21st IRBn, which is situated not far off from the site of the blast, be set up in the area to ensure lasting peace. DC Jalli said that the administration would send a report on the incident and the need for a permanent camp of the 21st IRBn at Kachurthal.
The local people also demanded compensation for the damaged structure from the administration.
Katlicherra MLA Suzam Uddin Laskar also visited the blast site and met the local people, DC and SP and appealed for peace and tranquility.
Meanwhile, a case has been registered at the Ramnathpur Police Station and investigation is on.