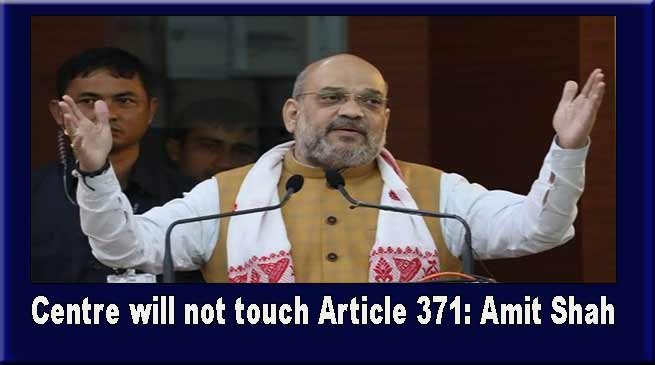 Union Home Minister Amit Shah on Sunday asserted that the Centre will not touch Article 371 which grants special provisions to the North East.
---
Guwahati
Union Home Minister Amit Shah today categorically said that the Center has no intention to touch Article 371, which offers special status to the northeastern states.
Speaking at the inaugural session of the 68th Plenary of North Eastern Council (NEC) by virtue of being its Chairman here today, Shah said despite his clarification given in the Parliament that Article 371 will stay as it is, rumour mongers and the government's detractors have been spreading that it (Article 371) will go the Article 370 way.
"Today being here at Guwahati, in the heart of North-East, I would like to make clear the difference between Articles 370 and 371. One (370) was a 'Temporary' provision while the other is a 'Special' provision. We are very clear that the special provisions provided to North-Eastern states under Article 371 will stay," he said.
He assured the eight Chief Ministers and Governors of North-East present in the meeting that the Center cares for development and welfare of the region. He said as the North-East is home to unique and distinct culture and traditions, the Center will always support preservation of its cultural heritage through provision of special status to the eight states.
Terming North East as the new engine of growth, the Home Minister stressed that development should not be at the cost of loss of culture. He said all developmental projects initiated by either NEC, DoNER or the state governments should be planned and executed in a manner that culture of the region remains intact.
Shah said Prime Minister Narendra Modi has accorded top priority to the North East and therefore, the region has witnessed unprecedented development since BJP came to power in 2014.
"In the earlier regime, NEC was only an advisory entity. But today it is more than that. Its budgetary allocation has also been increased about four times than that of pre-2014," he informed.
Emphasizing that a state or a country cannot be called developed, if even one village remains bereft of basic facilities like connectivity, electricity, water-supply, etc, Shah said NEC will now focus on developing such last unreached village.
He informed 30% of the NEC's budget will now be utilized for development of villages in the region. He called upon the state governments to prepare a list of such villages under their respective jurisdictions and work out with NEC for their development.
Shah also urged the state governments to explore and exploit the potential of bamboo, which grows in abundance in the region. He said bamboo and its produces, if marketed well, can boost the economy of the entire region.
Earlier in his opening address, Shaw profusely paid rich tributes to Bharat Ratna, late Dr Bhupen Hazarika, whose 93rd birth anniversary falls on the day.
Shah is chairing the two-day Plenary of NEC being attended by Jitendra Singh, Union Minister of State (Independent Charge), Ministry of Development of North Eastern Region cum Vice Chairman, NEC, Governors, Chief Ministers of North-Eastern States, senior officials from Government of India and State Governments.