Manipur
Manipur Viral Video: LIVE UPDATE
PM Modi Says Manipur Incident Shamed Country, Guilty Will Not Be Spared.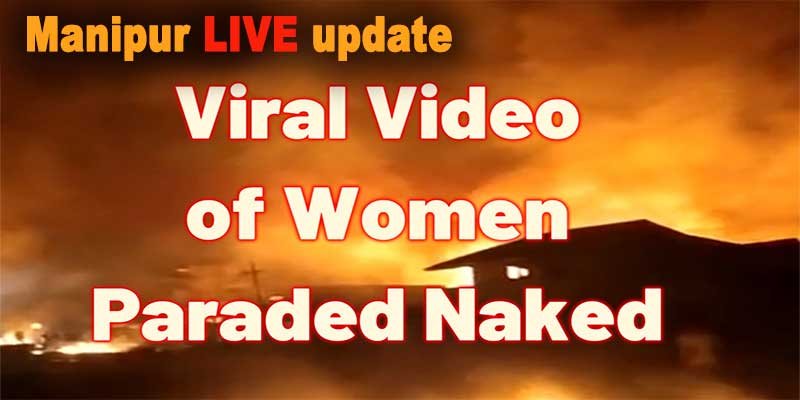 Manipur Viral Video: LIVE UPDATE-   Prime Minister Narendra Modi on Thursday called the alleged sexual assault of women in the northeastern state of Manipur "shameful", urging heads of state governments to ensure the safety of women.
Videos have surfaced on social media purporting to show two women paraded naked on a street in violence-hit Manipur after what townspeople on the videos say was a gang rape.
PM Modi Break Silence on Manipur, Says Manipur Incident Shamed Country, Guilty Will Not Be Spared.
I want to assure the nation, no guilty will be spared- PM Modi
Action will be taken according to the law- PM Modi
What happened to the daughters of Manipur can never be forgiven- PM Modi
Watch Video 
Supreme Court on Thursday said it was 'deeply disturbed' by the viral video of two women being paraded naked in Manipur and Termed the incident 'Simply unacceptable.
The Manipur Police on Thursday arrested one of the main accused who was seen in a May 4 video of two tribal women being paraded naked and molested by a mob at a village in Senapati district, officials said.
CM Biren Singh says, "it's a crime against humanity" On the Manipur video incident, CM N Biren Singh said that he ordered a probe immediately after the video surfaced. He said, "We saw the video and I felt so bad, it's a crime against humanity. I immediately ordered the police to arrest the culprits and the state govt will try to ensure capital punishment for the accused. Every human being should condemn it." The main accused in the case has been arrested
A video showing two women being paraded naked by a mob of men and being sexually assaulted began doing the rounds on Wednesday, bringing to light an incident which took place in Manipur more than two months ago, when violence first started.
A senior police official confirmed that the incident had taken place on May 4 in Thoubal district and that a zero FIR had been registered in the matter on May 18 in Kangpokpi district.
However, while the FIR, on charges including abduction, gangrape and murder against "unknown armed miscreants", was registered two months ago, there have not been any arrests so far.