Assam
Book review: "Counting Stars" by Indrani Das Bora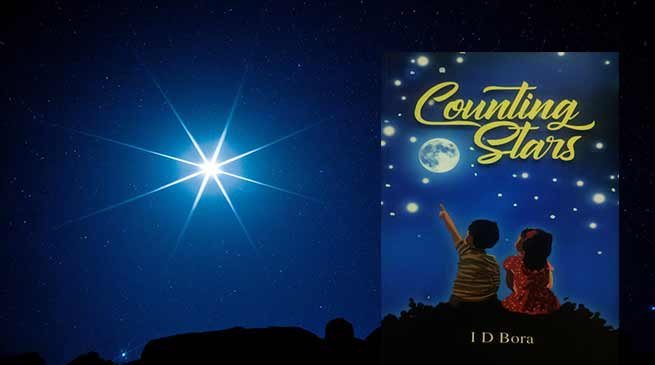 Guwahati
"Counting Stars" is the second novel by Indrani Das Bora officially launched on 4th November,2017 in a ceremony held at the Guwahati Press Club. This young author from Guwahati burst into the literary scene in November 2014 with the debut of her first novel "New Dawn" and has been on a high roll ever since.
With the launch of her second novel, she has clearly made a name for herself at a young age of 18 years. It is interesting to note that the author isn't a career novelist but a second year MBBS student currently pursuing her studies in Gauhati Medical College, Guwahati.
However, she has a strong passion for literature and writing which has led her to release her second Novel within span of 3 years, Her previous novel was a raging success and her second novel has also been reviewed well by readers around the state and beyond.
The readers clearly have a lot of positives to say but this is what our team here thinks of her Novel.
Author of the book- Indrani Das Bora
Title of the Book- "Counting Stars"
Name of the Publisher- Pacnchajanya Publishing
Place of Publication- Guwahati
Year of Publication-2017
Summary:-
The novel "Counting Stars" revolves around contemporary issues surrounding young adults in our country like self esteem issues, the constant struggle to find their place in society, the pressure to live up to their parent's expectations, Teenage depression, the stigma surrounding seeking Psychiatric counselling and suicide among young adults . It tells the story of 18 year Natasha Kashyap, self  proclaimed as the world's worst daughter and her struggle to find her place in the world after the dreaded 12th Board exams. It must be noted the author has allowed for considerable character development of the protagonist rather than stunting it halfway into a one dimensional depressed rebel young adult.
Through the course of the novel, The protagonist's character evolves from a depressed teen with no hope for her future and almost on the verge of committing suicide after being silently crushed under the burden of society's expectations of her to a strong young woman who discovers herself and breaks away from her shackles in a spiritual journey that takes her to the three corners of the country along with her friend Aryan and States bound cousin Shanaya.
The novel has deftly dealt with other major social issues like the stigma associated with seeking psychiatric help as the protagonist's character seeks out a counsellor to deal with her problems after relations with her parents devolve due to lack of communication.
Although the character isn't based on any real person, the author has still done a commendable job in exploring the issues surrounding young adults as the novel offers a fresh perspective into young adult problems, which we believe is probably because the author herself falls into the same age group but the writing still shows a certain maturity on the part of the author which is beyond her years.
The novel also has a powerful message for young adult readers as it tries to inspire them to introspect into their lives and rediscover themselves rather than being crushed under the weight of their own unrealistic ambitions.
Verdict- We believe this Novel definitely worth a read and we recommend all our viewers to grab a copy at your nearest bookstore. This talented young author is really the one to look out for and we wish her all the best for her future endeavours.