Assam
Assam: 5 innovative schemes, initiated by Hailakandi admin selected for nominations for SKOCH Award
ADVERTISEMENT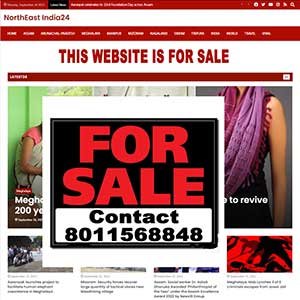 Hailakandi
Five innovative schemes and projects initiated by the district administration have been selected for nominations for SKOCH Award.
Of the seven schemes and projects, five have been selected for nominations, two rejected. The schemes and projects that have been selected for nominations are Akanksha, Seetalpati diversification, Amla-Gur Candy, Matrideep and Jal Surakshan Prakalpa.
District Coordinator, Poshan, Rajat Chakraborty, who is being deputed by the district administration will give a presentation before a panel of expert jury in New Delhi on Tuesday.
"I will give a presentation on the innovative schemes and projects initiated by the district administration selected for nominations to a panel of jury members who will make evaluation of the same and decide whether to recommend them to the next level," said Chakraborty. He was quick to add that Hailakandi is in the reckoning for the prestigious SKOCH Award 2020 for bringing in innovation.
"SKOCH Award is distinctive for its approach of selection of awardees, which is based on nomination, jury evaluation, presentation of shortlisted nominees, focus group discussions, interactions and peer evaluation, " added Chakraborty.
The award has been constituted by SKOCH Group, a Gurugram based autonomous, policy oriented, policy think tank dealing with socio-economic issues with a focus on inclusive growth.
Instituted in 2003, the SKOCH Award is to encourage people, projects and institutions that go the extra mile to make the country a better one.
SKOCH Award covers the best of efforts in the area of digital, financial and social inclusion. It encompasses the best of governance, inclusive growth, excellence in technology and applications, change management, corporate leadership, corporate governance, citizen service delivery, capacity building, empowerment and other such issues.
Top performing nomination that can contribute to best practices will be conferred SKOCH Order-of-Merit certificate. Amongst SKOCH Order-of-Merit recipients, the nomination with highest national ranking would be conferred the SKOCH Award.
Of the schemes and projects selected for nominations is Akanskha, an accelerated learning program running through education volunteers and teachers in government schools to improve student learning outcomes.
100 government schools have been covered in the first phase that resulted in 30 per cent improvement in student learning outcome. The ongoing Phase 2.0 covers 230 schools across the district.
Under Seetalpati project, SHG members eke out a sustainable livelihood and income by honing their skills that enable them to make diversified products from Sheetalpati.
The concept that Amla-Gur candy, rich in iron and vitamin C, is the best way to fight anemia among children and pregnant mothers gained in much importance because of its efficacy, cost effectiveness and most importantly its locally available.
Through a slew of activities, including Maa-Beti Mela, the district administration popularised the Amla-Gur candy among women who were averse to consuming iron folic acid tablets on the grounds that it would lead to miscarriage and also make them impotent.
For popularising this concept, the district administration headed by Keerthi Jalli bagged the State level award for showing good innovation during the Poshan Maah held in September last year. More than 7,000 pregnant women consumed Amla-Gur candies during the nutrition month.
Matrideep is a mobile based app that helps to identify and track the high-risk pregnant women and monitoring of antenatal services during their visit to ANCs.
Another innovative project selected for nomination is Jal Surakshan Prakalpa that promotes water conservation activities among school students. The project a modification of the existing tubewell in a way that the excess unused water goes into a soak pit and is filtered through layers of pebbles and sand and ready for reuse.
23 schools have been covered so far resulting in savings of 22,700 litres per month. The administration is planning to implement the project in a big way to augment the water conservation efforts.