Assam
Assam: All-women polling stations to come up in each LAC of Hailakandi election district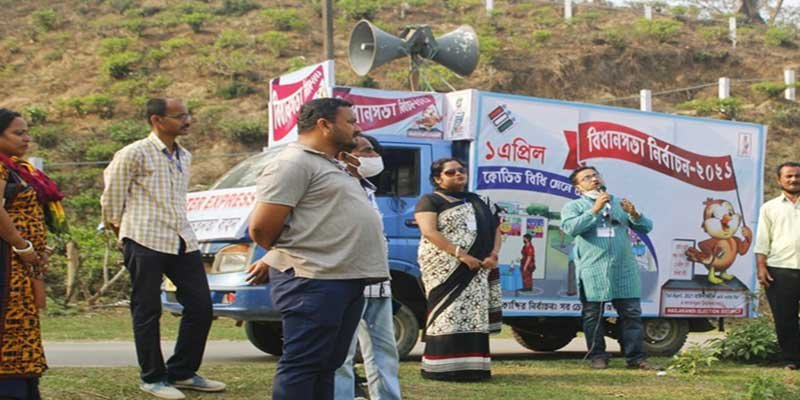 HAILAKANDI-  The Hailakandi election machinery is pulling out all stops to set up an all-women polling booth in every Legislative Assembly Constituency during the next month's polls in a bid to encourage more female voters to exercise their franchise.
Election officials have fanned out to different areas falling under the three LACs of 6 Hailakandi, 7 Katlicherra and 8 Algapur for identifying suitable locations for setting up of all women polling stations as well as model polling stations.
As per the Election Commission's (EC) directions to set up polling stations entirely managed by women, such booths will come up in all three LACs of the district.
District Election Officer, Megh Nidhi Dahal, IAS, revealed that there would be six numbers of all women polling stations two in each LAC and 10 numbers of model polling stations with five such stations in LAC 6 Hailakandi, three in LAC 7 Katlicherra and two in LAC 8 Algapur.
"All those deployed at such polling stations – police, election officers and other employees – will be women. These booths are aimed at ensuring gender equality and involving women's participation in the electoral process," said an election official.
"Such a step will not only make the voting process much more convenient, hassle-free and secure for women, but will also pull more and more women electors to the polling booths, especially in the remote areas," said a women's rights activist.
As per the EC's guidelines, there would be no specific colour code for such polling stations and  that security will be accorded a top priority.
"Sensitive polling stations will be kept out of this experiment while those near police stations will be considered to be managed by women," said the official.
The administration is mulling to add riot of colours and other art forms to make these booths attractive with emphasis on cleanliness.
This time around the focus is on increasing the percentage of women voters with the election authorities taking up a slew of initiatives under SVEEP.
Out of the total 4,97,450 voters in the district, 2,59,558 are men and 2,37,898 women voters. In the 2016 Assembly election, women voters' turnout was 78.3 per cent while in 2019 Parliamentary election, it was 77.9 per cent.
Election will be held in Hailakandi election district in the second phase on April 1 and results will be declared on May 2.