Assam
Assam Forest Minister orders enquiry in to death of 18 elephants in Nagon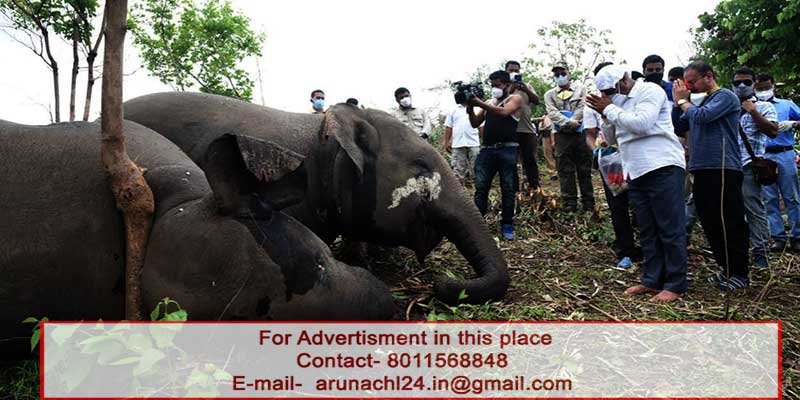 SILCHAR-  Minister for Environment and Forest, Parimal Suklabaidya has ordered an enquiry into the death of 18 elephants at Bamuni Pahar under Kothiatuli forest range in Assam's Nagaon district, which took the state in shock.
The pachyderms died reportedly after lightning struck them during the showers in the area on Wednesday night.
Minister Suklabaidya accompanied by PCCF (Hoff), Principal Secretary, Environment and Forest, a team of veterinarians and wildlife specialists reached the site of the incident on Friday morning and took stock of the situation.
After assessing the situation with the officials, Minister Suklabaidya said, the preliminary investigation revealed that the pachyderms have died probably due to lightning as there were no visible signs of struggle before they died. "However exact reason of the deaths will come out after thorough enquiry and submission of the post mortem report" he said.
A seven member enquiry committee, headed by Deputy Conservator of Forest, KK Deori has been instituted, the preliminary report of which will be submitted within three days and a detailed investigation report within 15 days.
Following the tragic incident, Chief Minister Dr.Himanta Biswa Sarma, on Thursday directed the forest minister Suklabaidya to visit the spot and assess the situation.
"Visited the elephants' death incident spot near Bamuni Pahar, Nagaon to assess on-the-spot scenario and pay my tributes to the Nature's precious assets," tweeted Suklabaidya, on Friday morning after visiting the spot.
Principal Chief Conservator of Forest (Wildlife) Amit Sahay, on Thursday mentioned that the carcasses were lying in two groups, fourteen were lying atop the hill and four at the bottom of the hill…This is stated in a press release issued from DDIPR office silchar Assam…