Assam
Assam: Hailakandi district gears up for smooth Durga Puja celebrations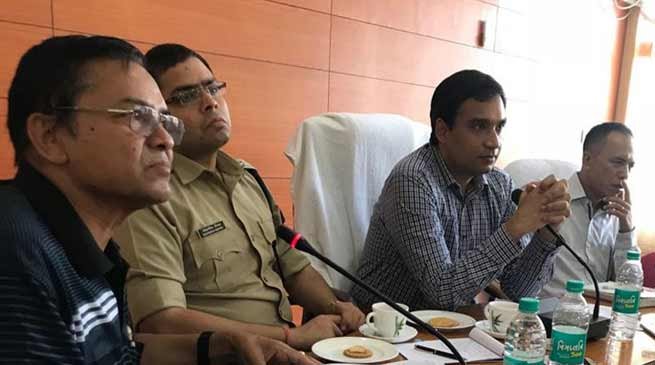 Administration will take all possible measures for smooth Durga Puja celebrations across the district- Adil Khan, DC, Hailakandi.
---
Hailakandi
The Hailakandi district administration is gearing up for smooth and hassle-free Durga Puja celebrations.
Chairing a preparatory meeting at his office conference hall here on Saturday, Deputy Commissioner Adil Khan said the administration will take all possible measures for smooth Durga Puja celebrations across the district. Khan sought the support and cooperation of the puja committees and government agencies on issues ranging from granting permissions to traffic management.
Superintendent of Police, Mohneesh Mishra said the police will make plans in coordination with the puja committees for better crowd and traffic management. Mishra asked the 50-odd puja committees to provide volunteers to the local police station and they will assist in crowd and traffic management during the festival. "Help from puja committees will ensure smooth movement of pandal-hoppers," added Mishra.
A senior police official said tough action would be taken against trouble-mongers. "The puja committees have been instructed to install closed circuit television camera and to keep ready standby generators in the event of power cuts," he said.
The meeting also discussed about electrical safety, fire safety and other safety measures to be adopted during the celebrations for an incident-free Puja. It directed the officials of APDCL to issue safety clearance certificate to the puja mandaps after inspection of the fire proof criteria.
The puja committees have also been asked to carry out immersion of the deities in a systematic manner to ensure a smooth and hassle-free end to the festivities. It asked the puja committees to start immersion from 2 pm and to complete the exercise on or before 10 pm.
The meeting had discussion on agendas like speaker control mechanism, supply of electricity and parking arrangements.
Deputy Commissioner Khan instructed the government agencies to carry out repair of road works and street lights near all the puja mandaps.
A traffic cop said vehicles would be diverted to avoid congestion on the main thoroughfares and near pandals.
Additional Deputy Commissioner, Amalendu Roy, Additional Deputy Commissioner, EL Fairheim, SDO (Sadar) Prodip Timung, Circle Officer, Tridip Roy, officers of various departments, representatives of puja committees and political parties attended the meeting.