Assam
Assam: Karigar Kalyan Diwas observed in Hailakandi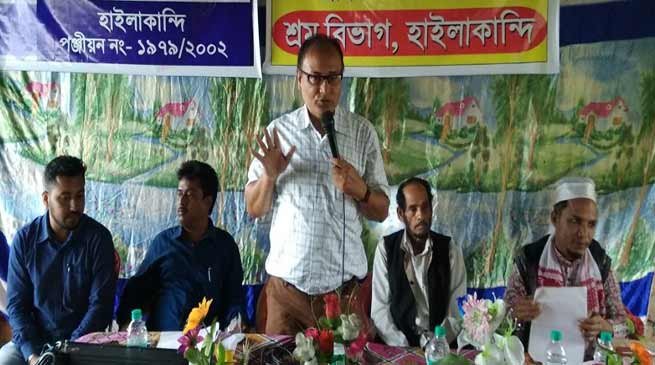 Hailakandi
Karigar Kalyan Diwas was observed in Hailakandi district of Assam on Saturday.  The divas was organised by the District Labour Office at Ratanpur Road Bahadur, awareness programme and on the spot registration of construction workers was made under the Building and Other Construction Workers' (Registration of Employment and Conditions of Service) Act of 1996.
Several speakers said the landmark BOCW Act, 1996 is meant to regulate the employment and conditions of service of building and other construction workers and to provide for their safety, health and welfare.
They also demanded proper utilisation of the funds collected by way of cess at the rate of 1% of the construction cost incurred by the employer under the Building and Other Construction Workers' Welfare Cess Act, 1996. Some advocated for utilisation of the funds for the welfare of such workers, who are primarily migrant workers and those who are indigent and extremely poor.
The representatives of the trade unions said the BOCW Act enacted for the benefit of the unorganised sector of building and construction workers must address the issues of education, health, social security and pension for construction workers, saying they build not just infrastructure, but also the nation.
They underscored the need to raise awareness about the slew of benefits under the Act that can be availed only through registration with the district labour office. But a serious lack of awareness among this segment of the population has resulted in minimal registrations.
Besides, officials from different departments, representatives from Sadou Asom Nirman Sramik Union (CITU), Asom Mrajuri Srameek Union, Barak Valley Agragami Nirman Shramik Union and South Hailakandi Construction Labour Union also took part in the diwas.