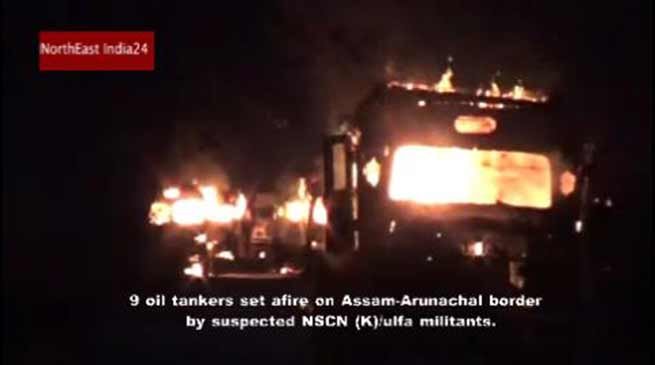 Dibrugarh 
By Anil Poddar 
9 oil tankers set afire on Assam-Arunachal border by suspected NSCN (K) militants. The tankers were moving from Kharsang in Arunachal Pradesh to Digboi in Assam carrying crude oil when they were set on fire near Jagun.
The DG of Assam Police, Mukesh Sahay suspected hands of Naga rebel group NSCN-K in the incident.
Police quoting tanker drivers who stood witness to the incident, said a group of armed militants who looked like tribal waylaid the 10 tankers that were carrying oil from Kharsang oil field in Arunachal Pradesh at Namsik in Jagun and forced the drivers and helpers of the vehicles out at gun point and set fire to the tankers pouring petrol.
The insurgents warned that it was a consequence of plying tankers without paying 'tax' and next time such tankers would be burnt along with the inmates.
The area is a stronghold of Naga rebel group NSCN-K and United Liberation Front of Assam (Independent).
Click and Watch Video