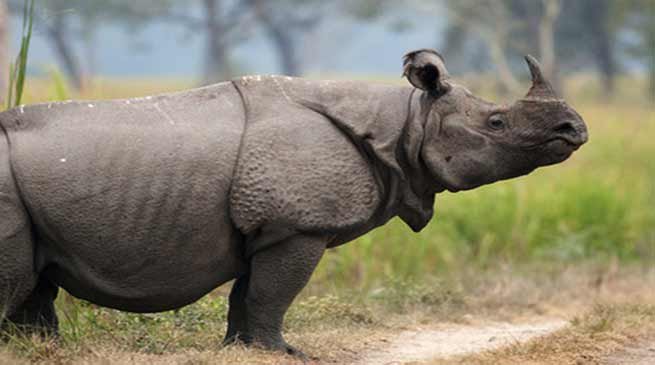 Golaghat 
The poachers killed an adult Rhino, strayed away of the Kaziranga National Park ( KNP ), was killed and its horn taken away by poachers in Majuli district, a forest department official said on Sunday.
This is the third rhino killed by poachers since January this year with the earlier two rhinos killed in Kaziranga and this one outside the Park area.
The first rhino was poached at Daflang camp area of the Bagori range on January 14, but the poachers could not take away its horn, while the second one was killed at Polokata Tapu near Sitamari under Lahorijan forest camp on February 11.
Now in today's incident  female carcass of the rhino with its horn missing was recovered this morning at Lohori Chapori situated north-west of Shankarghat at Dergaon by villagers who informed local forest officials.
According to the official source the  rhino was killed last night by poachers taking advantage of heavy rain, Saikia said the animal hunters shot nine rounds of bullet of .303 rifle to kill the rhino as evident from the empty cartridges recovered from the spot.
The rhino went to Majuli district walking over the sandbar of the river Brahmaputra after it had strayed away of the Agaratoli Range of the Kaziranga National Park from February 22 last, official  said.