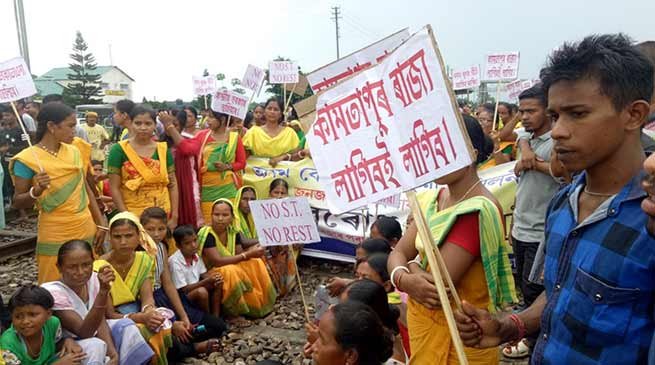 ADVERTISEMENT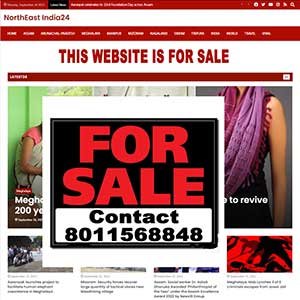 Kokrajhar
UPDATED AT 6 pm
More than 500 picketers were present in the Choutara station from 6-00 AM. When all efforts including negotiation failed, and picketers resorted to stone pelting, local police resorted to lathi charge to disperse the crowds. Two policemen also got injured. After removal of obstructions and certification of track safety train service started again. The agitation at Simaluguri station was also withdrawn at 1-45 PM.
---
Train services disrupted due to Rail roko andolan staged by All Koch-Rajbonshi sanmelan in support of their demand of Kamtapur as a separate state and Schedule Tribe status to the community.
On Monday from the morning They sitting on railway tracks at Chautara railway station in Kokrajhar district of Assam and disrupted the train services.
Due to this Rail Roko at Chautara Station form today morning, a large number of long distance trains including the goods trains have been controlled at different Stations of Rangiya and Alipurduar division.
Two local passengers Alipurduar-Kamakhya-Alipurduar and New Jalpaiguri-Rangiya have been cancelled today.
Today's Down Rajdhani Express and Guwahati-Bangalore Express have been diverted to run via alternative route to the destinations.
Watch Video 
However no long distance up and down trains has been cancelled today, but some trains have been controlled at different stations.
The Koch-Rajbongshi, a community demanding Schedule Tribe status, want Kamtapur state to be carved out of western Assam and the northern half of West Bengal.
Meanwhile the leaders of Koch-Rajbonshi sanmelani  threatens for vigorous movement, is their demands not consider by the govt.