Mizoram
Mizoram Assembly elections LIVE updates: voting begins in all 40 constituencies
Total 174 candidates are fighting the Mizoram assembly election.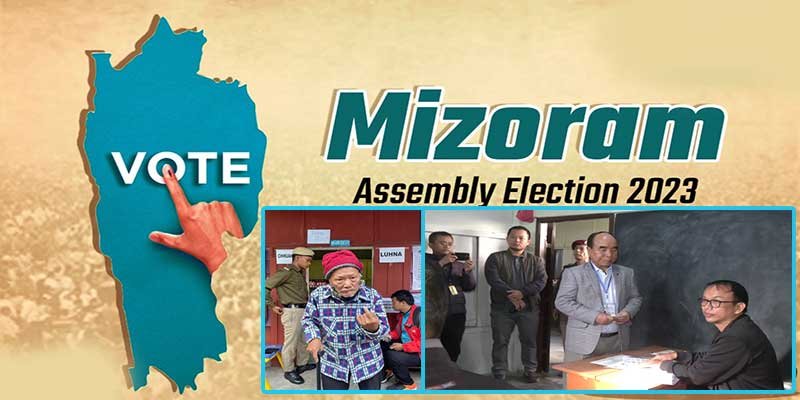 Mizoram Assembly elections LIVE updates:  The main battle in the state is between the ruling Mizo National Front (MNF), Congress, and Zoram People's Movement, with the BJP keen to emerge as the 'kingmaker'.
Matters related to the people's 'identity' and welfare along with 'neglect of infrastructure', corruption and unemployment were figured out during the campaigns in the run-up for the assembly polls in Mizoram.For the first time in five decades, foreigners have become a poll issue in Mizoram.
While the ruling MNF and opposition Congress and Zoram Peoples Movement have fielded candidates in all 40 seats, BJP is contesting 23.
02:00 PM 
Mizoram Governor Hari Babu Kambhampati, state Congress chief Lalsawta, Zoram People's Movement working president K Sapdanga cast their vote as voting got underway in the state.
Mizoram has recorded a turnout of 52.69 per cent of voters till 1 p.m. on Tuesday, according to data provided by the Election Commission of India (ECI).
12:30 pm 
A 101-year-old voter set an example by casting his vote in the 24-Champhai South Assembly Constituency in Mizoram. The centenarian, Pu Rualhnudala came to vote along with his 86-year-old wife, Pi Thanghleithluaii, setting couple goals in this season of assembly elections.
9:30 AM
Mizoram Chief Minister Zoramthanga was unable to cast his vote in the Mizoram assembly elections as the electronic voting machine was reportedly not working.
I was waiting for some time. But since the machine could not work, I said that I will visit my constituency and I will vote after the morning meet," the CM told news agency ANI.
He also stated that there will not be a hung assembly in Mizoram and his party will form the government. "I have full confidence in that," he stated.
Interestingly, Mizoram is the only northeastern state where BJP is not part of the ruling alliance. The saffron party is fighting 23 seats in 2023.
LIVE UPDATE
07:AM 
Voting to elect all 40 members of the 9th Mizoram Assembly began across the state on Tuesday at 7am.
Voters were seen queuing up outside polling stations in the capital Aizawl since early morning.
The state has a total of 857,063 voters (413,062 male, 439,026 female and 4975 service voters).
There are a total of 1276 polling stations and 174 candidates in the fray.
Aizawl district with 2,86,816 has the highest number of voters while Hnahthial with 16,261 has the least.
Among the 40 constituencies, Tuichawng in Lawngtlai district has the highest number of voters (36,041) and Thorang in Lunglei district has the least (14,924).
Key Candidates 
Zoramthanga, MNF
MNF leader and Mizoram chief minister Zoramthanga is one of the most prominent faces in the assembly election this year. He will be contesting from the Aizawl East-I seat and is up against Congress candidate Lalsanglura Ralte ZPM's Lalthansanga – who is the party's vice-president.
In 2018, Zoramthanga secured 42.9 percent votes defeating independent candidate K Sapdanga who got 30 percent votes, and Congress' K Vanlalrawna who managed to get 24.5 percent votes.
Lalsawta, Congress
Another key candidate in the Mizoram polls is the state Congress chief Lalsawta who will contest from Aizawl West-III. He will be contesting against ZPM candidate VL Zaithanzama and MNF candidate K Sawmvela.
Lalsawta – who has been the finance minister of Mizoram till 2018 – won the state elections in 2008 and 2013 from Aizawl East-II. However, he lost the seat to MNF's Robert Romawia Royte in 2018. While MNF won the seat with 41.4 percent votes, Lalsawta remained restricted to only 26.9 percent votes.
Lalduhoma, ZPM
ZPM founder Lalduhoma is another key contestant in the Mizoram assembly elections. He will be contesting from the Serchhip constituency against Congress' R Vanlaltluanga and MNF's debutant candidate J Malsawmzual Vanchhawng.
In 2018, Lalduhoma won from the Aizawl West-1 but he chose to represent Serchhip. He is a former IPS officer who was also part of the security of former Prime Minister Indira Gandhi.
Vanlalhmuaka, BJP
BJP state unit president Vanlalhmuaka will be contesting from the Dampa constituency – a key seat for the saffron party as this was the only seat that it was able to bag in 2018. Vanlalhmuaka will be contesting against Mizo National Front's (MNF) Lalrintluanga Sailo, Congress' Lalhmingthanga Sailo and ZPM's Vanlalsailova.
political scenario 
In 2018, the MNF returned to power in Mizoram after 10 years, defeating the Congress in its last bastion in the northeast. The MNF bagged 26 of the 40 seats and secured a majority on its own with a 37.70% vote share. The Congress, which was in power since 2008, came third with just five seats and 30% of the total votes.
Zoram Peoples Movement (ZPM), which was formed a year earlier after the merger of seven parties, replaced the Congress as the second biggest party with eight seats in 2018.
In 2008, Congress defeated MNF, which was in power since 1998, by winning 32 seats. Five years later, Congress won 34 seats while MNF managed to bag just five.
The Bharatiya Janata Party (BJP) managed to win just one seat in the Christian-majority state five years ago—its first victory in Mizoram. The ZPM secured around 23% of the votes and the BJP eight per cent in 2018.