Tripura
Rajen Gohain Flags off Agartala – New Delhi Rajdhani Express
ADVERTISEMENT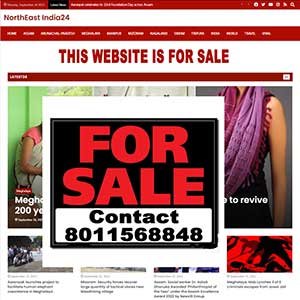 Agartala
The Union Minister of State for Railways, Rajen Gohain today flagged off 20501/20502 Agartala – New Delhi (Anand Vihar) Rajdhani Express at a ceremonial function held at Agartala Railway Station making Agartala the 3rd Northeastern Capital city to be connected to National Capital.
Speaking at the ceremony, Minister of State for Railways Rajen Gohain said that since the new government took charge at the Centre three years ago, the North Eastern region has been given special attention and at present a number of railway construction works are simultaneously being undertaken in the entire Northeast.
He said, funds were never a constraint for realising developmental works in the region and the Central Government believes in a holistic approach for development which is not narrowed down by region-specific consideration. Mr Gohain said, among all the north-eastern states Tripura got best of rail connectivity under the current government. He also said that he had intervened personally to provide the shortest possible route for the new Rajdhani Express so that the people of the state get faster connectivity with the national capital.
Hon'ble Governor of Tripura, Tathagata Roy in his speech lauded the efforts of the railways and said that it was the outlook of the government that plays important role in bringing in development to a region.
Other speakers, including Badal Choudhury, Shri Manik Dey, Shankar Prasad Dutta, Jitendra Chowdhury and Dilip Sarkar too praised railways for their efforts in providing a better train service to the State. They called upon N. F. Railway authorities to continue with providing better services and facilities and appealed for timely completion of projects.
The new Rajdhani Express train will leave Agartala at 18.30 hrs on every Monday and reach Anand Vihar (New Delhi) at 11.20 hrs on Wednesday. During the return journey, the train will leave Anand Vihar at 19.50 hrs of Wednesday to reach Agartala at 12.30 hrs of Friday. The train will cover a distance of about 2457 km in about 41 hours.
The train will have 01 First-Class AC coach, 02 Two-Tier AC coaches and 08 Three-Tier AC coaches besides one Pantry Car and two Generator-cum-luggage vans. The train will have Flexi-Fare in AC 2 Tier and AC 3 Tier. The train will have commercial stoppages at Dharmanagar, Badarpur, New Halflong, Hojai, Guwahati, Kamakhya, Rangiya, Barpeta Road, New Jalpaiguri, Katihar, Barauni, Patliputra, Mughal Sarai and Kanpur. Commercial stoppages would be also provided at New Karimganj after completion of certain formalities very soon.
It may be mentioned that, Agartala, the capital of Tripura, became the third NE state capital to be connected with BG railway line in 2016. The first-ever BG express train connecting Agartala with New Delhi was flagged off on 31-07-2016. The trains currently running in the state are –
| | | |
| --- | --- | --- |
| Sl No. |                                                          Train No. | Service started on |
| 1. | 14019/14020 Agartala- Anand Vihar (Delhi) Weekly Express | 31-07-2016 |
| 2. | 15660/15659 Agartala – Sealdah Kanchanjungha Express (tri-weekly) | 08-10-2016 |
| 3. | 55663/55664 Agartala-Silchar Passenger (daily) | 07-10-2016 |
| 4. | 55675/55676 Agartala-Dharmanagar Passenger (daily) | 07-10-2016 |
| 5. | 55677/55678 Silchar-Dharmanagar Passenger (daily) | 07-10-2016 |
| 6. | 55679/55680 Agartala-Dharmanagar Passenger (daily) | 07-10-2016 |
| 7. | 55681/55682 Agartala-Udaipur Passenger (daily, except Sunday) | 24-01-2017 |
| 8. | 55684/55683 Agartala-Udaipur Passenger (daily, except Sunday) | 24-01-2017 |