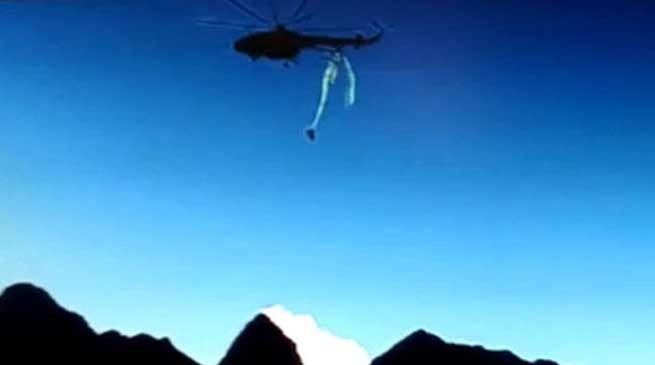 Itanagar
A newly emerged video goes viral in social media which clearly shows how an Indian Air Force (IAF) helicopter crashed in Arunachal Pradesh earlier this month, killing seven military personnel on board.
The 19-second clip, shows the parachute of one of the cans getting entangled with the tail rotor of the chopper which then separates from the helicopter. The video confirms that the tail rotor separated from the helicopter after being struck by a kerosene can which was being airdropped.
A helicopter cannot fly without its tail rotor. The Mi-17 V5 crashes moments later.
The Mi-17 V5 chopper was on an air maintenance mission at an altitude of 17,000 feet when it crashed around 6 am near Tawang on October 6. The helicopter was flying to Yangtse to drop off kerosene jerry cans at a forward Army camp.
The air maintenance mission was being flown by two very experienced Air Fore pilots at an altitude of 17,000 feet.
All personnel on board perished. The charred bodies of seven, including the pilot, co-pilot, flight engineer and two army officers, were found at the crash site close to the border with China.
watch Times Now  video 
https://www.youtube.com/watch?v=cNxuU5rGgM8