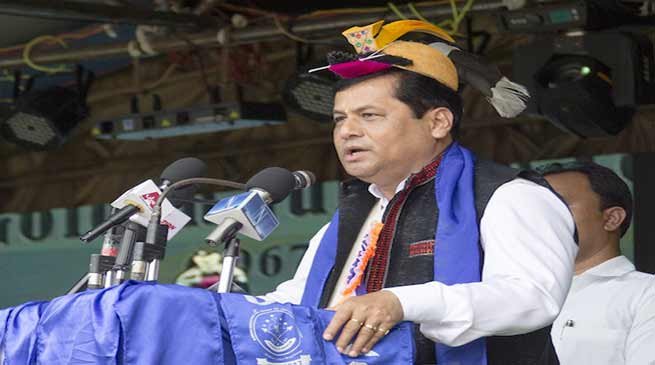 ADVERTISEMENT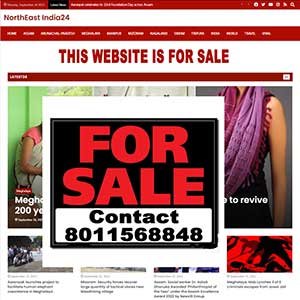 Itanagar
Assam Chief Chief Minister Sarbananda Sonowal attending as chief guest at the golden jubilee celebration of All Arunachal Pradesh Students Union (AAPSU) at Indira Gandhi Park today appeal the students community to be sincere and dedicate for the development of state with a commitment.
Sonowal said that we need to work hard, were together, we are together and we need to stay together, together we need to work for exploration of natural resources for development and wanted to convert one of the strongest region of the country into economic development.
We should not deviate from the target and we need to sincere toward our commitment.
Everybody know that NE region of the country need to be united and carry forward the development of state and country. The act East Policy of the present government under Prime Minister Narendra Modi need to be taken up, various schemes like skill India, digital India are some of the example.
Youths are the future of the state and country, they need take a decision for up-liftment of education sector with in Schools, Colleges and University area in coordination with faculty, and government. Have faith in government under Pema Khandu and they would deliver the goods for development of education, economic, Industrial and Tourism Sector.
Arunachal is progressing and hope that under Pema Khandu the state will go ahead,
He requested the AASU and NESO to support the Arunachal  in its development.
We are going to organise a Global business summit in Guwahati in February 18 and appeal the investors to visit state and region which would give a way for economic development of the region.
Sonowal while appealing the students and youths of the state said that youths are engine and need to devote your time in studies, you must prepare yourself to be most efficient citizens of this parts of country so that one can take up any types of challenges whatever appears before with respect and dignity and pride.
He said that since he belongs to students movement and believe that students can bring revolutionary change and appeal them to be optimistic, be positive and put your best possible efforts without hard work and dedication  it is not possible to bring change in life and state and  country and appeal them to dedicate, maintain hard work and commitment.
He praise the performances of MOS (Home) Khiren Rijiju and said that his performances have given moral boosting to all.
Earlier AAPSU General Secretary Tobom Dai welcoming the guests and delegates of students said that it is a happy moment that we have been celebrating the golden jubilee of the organisation, the journey of the organisation began in late 40s with leaders like Dayeng Ering and Martin Dai followed by Talom Rukbo and Baken Pertin and the draft for the present AAPSU began with Lumar Dai as Chief Advisor and Nyodak Yongam as Co Convenor while the 1st President was Nyodak Yongam, Rinchin Norbu and others and the trend continue since then the students community have been doing its best effort for the students community while maintaining non political ethos.
Former North East Students Organisation (NESO) Chairman and present Advisor Dr. Samujal Bhattacharya elaborated the activates of NESO in protection of students community and being acting as umbrella organisation of students union of the region.
Supporting thee movement of AAPSU Dr. Bhattacharya said that NESO is with AAPSU in fight against the Chakma-Hajong refugees issue and in any case not allow the refugees to be dumped in the region.
Among others Deputy Chief Minister Chowna Mein, Education Minister Honchum Ngandam, Lakhimpur MP Pradan Baruah, Former AAPSU Leaders which include Minister Nabam Rebia, Eken Riba, Tokmin Borang, Domnik Tadar, NESO General Secretary S. Prakash, ABVP Organising Secretary (NE) Dheraj, AAPSU Office bearers, District students Union leaders and others were present on the occasion.