Assam
Assam: Army provide special scooter to disabled soldiers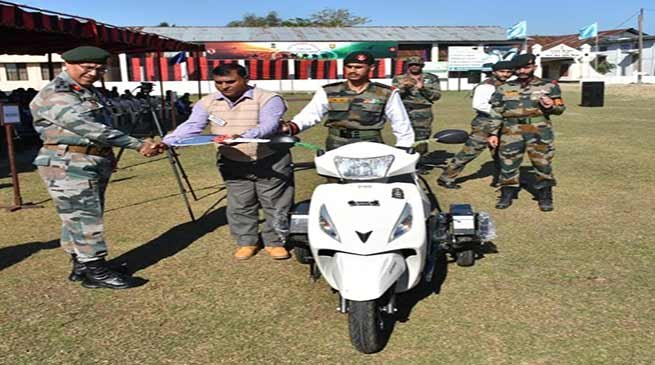 Indian Army Salutes its Veterans, by providing three special scooters to disabled soldiers in a rally held at Balijan.
---
Tezpur
Soldiers recruited from Assam have made a tremendous contribution to the national cause, serving with pride, distinction, utmost selflessness and commitment as part of  Assam Regiment as well as other Arms and Services of the Indian Army.
Over the past decade or so, the Army has accorded top priority to the welfare of it retired soldiers, who are now referred to as Veterans'.  It is felt that this vast pool of disciplined and skilled manpower ought to be harnessed for nation building even after the compulsions of maintaining a young soldier profile necessitate early superannuation.
About 1800 Army Veterans, Veer Naris and their dependents assembled here at Balipara near Tezpur on the occasion of the Annual Veterans' Rally. The event was conducted by Blazing Sword Division on behalf of Gajaraj Corps and the Veterans hailed form districts of Sonitpur  and Bishwanath Chariali.
The Central and State governments and the Army being stakeholders have initiated numerous programmes for re-settlement of soldiers and there is a constant requirement to enhance awareness levels.
Accordingly the event saw huge participation from key agencies like Kendriya Sainik Board, State Sainik Welfare Organisation, district administrations of Sonitpur and Bishwanath Chariali district and pension disbursing authorities of major public sector banks.
As a measure of concern for senior and very senior Veterans, thorough medical screening facilities were established by the local army medical authorities where specialist doctors carried out check up and dispensed prescription and referrals.
For benefit of the next generation of dependents who accompanied the Veterans, information stalls on procedures for admission to Sainik Schools, recruitment into Army and terms and conditions of service were also set up. Three special scooters were also handed over to disabled soldiers by the Army.
The civil administration officers while addressing the assembly reiterated the commitment of administration to assist the Veterans in their re-integration into society after their long absence from homes.  All other dignitaries present for the occasion thanked the Veterans' for their services and assured them of Army's and civil administration's commitment to leave no stone unturned to resolve their outstanding issues.
Army authorities also thanked the representatives of pension disbursing banks for the automation carried out over the recent years which has resulted in huge improvements in timely and full payment of pension entitlements to maximum Veterans.  All officials were urged to be empathetic to the cause of the soldiers who had spent their youth away from homes safeguarding distant borders.
Smt Darthi Nazary W/O Late L/Nk Lakhiram Basumatari, a Veer Nari while interacting stated that her husband had sacrificed his life in 2008 in J&K and she felt renewed sense of pride every time she attended this annual event.