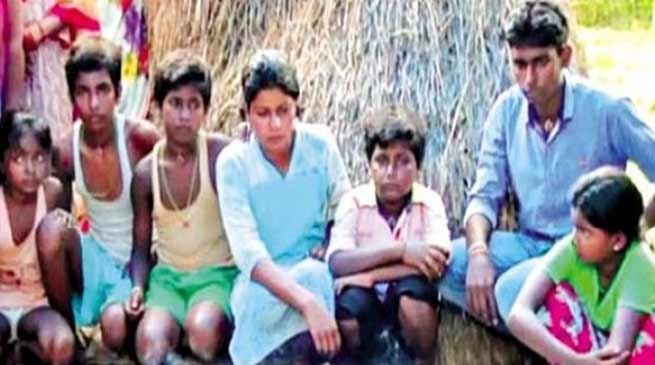 A 70 yrs old mother died in Tinsukia district of Assam when her son declared doubtful citizen. Her son and daughter-in-law are in detention camp.
---
Tinsukia
A 70-year-old woman Chhotki Devi, who migrated to Assam from Baliya district of  Uttar Pradesh with her husband Parshuram Prajapati in 1945, died when she got to know that her son, Dinesh Prajapati who was born and brought up in Assam was declared as a doubtful citizen of the state.
The incident came to light only after the death of Chhotki Devi whose son Dinesh Prajapati and daughter-in-law Tara Devi did not find themselves in the final draft list of the National Register of Citizen's (NRC) Assam.
The duo, who have been languishing in a detention camp in Upper Assam's Tinsukia district, were declared as Doubtful Voters (D-voters).
Parshuram and Chhotki devi had two sons–Dinesh and Rajesh and three daughters. All of them were born in Assam and eventually got married in Assam only.
The mother fell sick soon after her son Dinesh and daughter-in-law Tara Devi were declared as doubtful citizens and asked to face trial in the Foreigners tribunal.
The elderly couple also looked after Dinesh's five kids.
Since the couple were struggling to make ends meet, they could not appear before the tribunal. The police then sent their son Dinesh and his wife to a detention camp around three months back.
"Since then, the Dinesh's mother Chhotki devi has been running from pillar to post to get her son released. Nobody helped her and subsequently, she fell sick and died on Friday," said the residents of the area.
Now after the death of Chhotki, villagers are looking after Dinesh's five children.
On the other hand a delegation of the Assam state committee of Sarva Hindustani Parishad ( SHP ) met Prateek Hajela,  state co-ordinator of NRC on August 14 last and submitted a memorandum, a press release stated.
In the memorandum it has been mentioned that the non-inclusion of the names of many Hindi speaking people in the final draft of NRC published on July 30 has created panic among the Hindi speaking community.
SHP in the memorandum also requested  that the genuine Indians should not be left out of the final NRC.
On the other hand, the SHP team also met BJP state spokesperson Pramod Swami and submitted another memorandum to him.  They asked him to raise this issue of Hindi speaking people to the State Government. Pramod tweet about the incident tagging PM Modi, BJP presidnet Amit Shah and Assam CM, Sarvanand Sonowal and request for justice.
@narendramodi @AmitShah @BJP4India @rajnathsingh @KirenRijiju @sarbanandsonwal @RanjeetkrDass @assampolice # Pl look into the matter and ensure justice pic.twitter.com/GCzFaH3NQS

— PRAMOD SWAMI (@pramodsworld1) August 19, 2018
Expressing grief, Assam BJP MLA Ashok Singhal told Northeastindia24 that such harassment of genuine Indian citizens must be stopped and ground level officials  should also understand the importance of NRC .