Assam
Assam: NF Railway celebrates 72nd independence day of our nation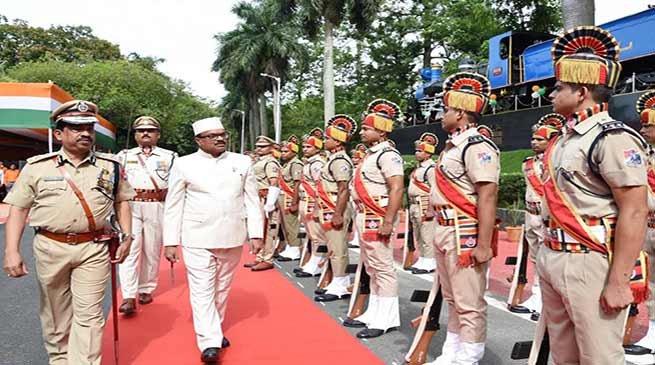 NF Railway celebrated the 72nd Independence Day of our Nation in befitting manner. The central programme was held at the Maligaon
---
Guwahati
Northeast Frontier Railway celebrated the 72nd Independence Day of our Nation in befitting manner. The central programme was held at the Maligaon Railway HQ complex, where Sanjive Roy, General Manager of NF Railway unfurled the National Flag in presence of a huge gathering of railway officials and their family members.
The General Manager also inspected an impressive Guard of Honour given to him by RPF contingents and Bharat Scouts & Guides.
In his speech General Manager highlighted the need for having proper safety during train running. He mentioned that for improvement of safety, as many as 151 Unmanned Level Crossing gates have been eliminated. Balance 76 Unmanned Level Crossings are going to be eliminated by September – 2018.
For greater passenger comfort and safety, as many as 332 new safe and comfortable LHB coaches have been inducted during the current year and three trains running with old ICF coaches have been converted into LHB coaches.
 1177 extra coaches have been augmented temporarily to create extra berths in 46 long distance trains. 30 coaches have been permanently augmented in 4 long distance and 7 passenger trains.
Moreover 4 new long distance trains have been introduced and 5 trains have been extended. Free WiFi service has also been commissioned at 30 stations. For real time monitoring of base kitchens and catering units, 11 such units have been fitted with CCTVs.
For energy conservation, all railway stations have been fitted with 100% LED lighting. 859 service buildings have also been converted into LED lighting covering 100% of all service buildings.
All residential buildings are expected to be fitted with LED light by August end.  N.F. Railway also added 150 kWp of solar energy generating capacity taking the total generating capacity to 1259 kWP.
Later the General Manager alongwith members of NF. Railway Women's Welfare Organization (NFRWWO) distributed fruits amongst the admitted patients of the NF. Railway Central Hospital, Maligaon.
The Independence Day was also celebrated in all the five Divisions of N.F.Railway viz. Tinsukia, Lumding, Rangiya, Alipurduar and Katihar, where the Divisional Railway Manager unfurled the National Flag in presence of Divisional railway officials and their family members.