Assam
Assam's Hargila Army, Aaranyak and Allies launch sanitation hygiene campaign
200 girls from Pachariya, Dadara, Singimari, Bongsor,  Alikash, Molong, and nearby areas received sanitary napkins during the campaign's launch.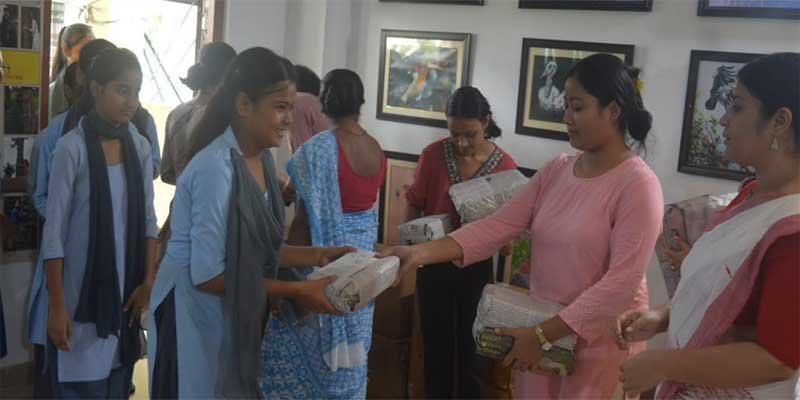 GUWAHATI-   Throughout much of the world, menstruation is still stigmatized. Many countries, especially low-income ones, avoid discussing this topic in public. As a result, it is difficult and nearly impossible to include it in national dialogue and policy discussions. However, regardless of their socioeconomic status, all girls and women are expected to maintain strict menstrual hygiene.
Women and girls between 15 and 24 years of age, especially those in rural areas of the state, need to be made aware of menstrual hygiene issues. A campaign promoting menstrual hygiene, health and environmental education was launched at Kamrup, Assam, by Aaranyak, Hargila Army, Women in Nature Network,  Alice C Tyler Perpetual Trust, WFN, Rewild, Wilhelma Zoo, eco club, Rewilding Academy and Pachariya Kushal Konwar High School. In the launch yesterday at Pachariya Kushal Konwar High School of Kamrup, Dr Purnima Devi Barman, an internationally acclaimed environmentalist and Green Oscar awardee, also a biologist of Aaranyak, led the initiative.
Also Read- Aaranyak's environmental scientist awarded the 'Distinguished Humphrey Fellowship in Climate Change'
Women across Kamrup are being taught how to remain healthy during their periods as part of the campaign aimed at addressing the taboo associated with menstruation. 200 girls from Pachariya, Dadara, Singimari, Bongsor,  Alikash, Molong, and nearby areas received sanitary napkins during the campaign's launch. This was basically launched for underprivileged girls and their mothers.
During her address to the girl child, Dr Purnima Devi Barman, explained that health, hygiene, and environment education go hand in hand, and that when we take care of our health, we can take care of Mother Earth as well.  "In my two decades of journey of conservation, I realised environment awareness needs health and hygiene and when people are self aware of their health, they are aware of the health of the earth", she stated.
As part of this campaign, hygiene education will also be provided to boys. She announced that the mothers of each child would also be included as well, and they would be invited along with their children. Menstrual hygiene issues have a profound impact on the lives of women and girls and keep them from reaching their potential.
Also Read- Aaranyak organises workshop on Wildlife Crime in Arunachal Pradesh
The school's headmaster, Dr Sarbanda Kailta, expressed his happiness to be a part of this campaign and intends to support it as much as he can. Hargila army lady Mrs Manisha Das explained the importance of menstrual awareness while Manab Das, Barakha Das, Dipankar Das, Jahnabi Das, Jina Mahanta Karishma Das and Shivani Gogoi interacted with the students.
Despite the struggle, there have been heartwarming success stories in the past. This campaign, which aimed to organise in rural areas of throughout the state, was led by a team that is positive and committed to making a change and contributing towards society.