Assam
First on Brahmaputra (NW2): IWAI executes Historic 3275 MT ODC for NRL Expansion
Single Heaviest ODC at 1286 MT sails successfully on NW 2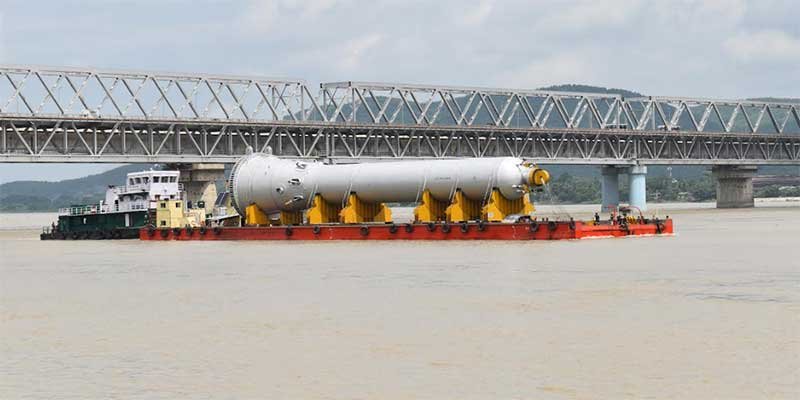 GUWAHATI- Inland Waterways Authority of India (IWAI), the statutory authority on inland waterways in the country under the Ministry of Ports, Shipping & Waterways (MoPSW), transported heaviest ODCs meant for Numaligarh Refinery's expansion project.
The cumulative weight of the three ODCs is more than 3275 MT. The heaviest of the three is at 1286 MT, making it the single largest ODC ever to be transported via Brahmaputra. The other two ODCs are weighed at 1248 MT and 741.12 MT.
Sarbananda Sonowal makes major announcements for capacity building of NIH at Kolkata
All the three ODCs set sail together from Diamond Harbour in Kolkata to NRL jetty through Indo Bangladesh Protocol Route (IBPR), and then on to National Waterways 2 (Brahmaputra) and National Waterways 31 (Dhansiri).
IWAI is transporting as many as 24 ODCs for NRL expansion project as per an MoU signed in 2021, in the presence of Union Minister of Ports, Shipping & Waterways and Ayush, Sarbananda Sonowal.
Heaviest ODC at 1286 MT as well as other two ODCs at 1248 MT and 741.12 MT are ferried for the expansion project at NRL
Speaking on the occasion, the Union Minister of Ports, Shipping & Waterways and Ayush, Sarbananda Sonowal said, "It is a watershed moment for the inland waterways transportation of India as its efficiency and efficacy as an alternative mode is now successfully established.
Buoyed by the vision of Prime Minister Narendra Modi ji, the government has been emphasising on bringing in transformative solutions to multiple issues associated with on road transportation. The successful transit of heavy ODCs going upstream from Kolkata to Numaligarh is a manifestation of the immense possibilities that Inland waterways possess for India, and especially for Assam and the Northeast.
Assam: Sarbananda Sonowal announces 100 bedded Yoga & Naturopathy Hospital in Dibrugarh
Honourable Prime Minister Modi ji always envisioned enabling our rich & complex inter web of riverine system for a cost effective, environment friendly and yet efficient mode of transportation.
Historic ODC cargo left from Diamond Harbour to NRL Jetty through Indo Bangladesh Protocol Route (IBPR), NW 2 (Brahmaputra) & NW 31 (Dhansiri)
After the  mega success of river tourism through world's longest river cruise, Ganga Vilas, sailing from Varanasi to Dibrugarh, we have now established a viable possibility through inland waterways to unlock value for the economy and growth of trade and commerce, especially in the rural areas by the banks of the waterways.
Mizoram: Sarbananda Sonowal laid the foundation stones for SIX AYUSH hospitals
As the new engine of growth of India, the Northeast and Assam is poised for a new age of growth in trade and commerce with novel possibilities."
Of the three, the heaviest ODC was carried by MV Focus XII with Marine 108. The ODC with 1248 MT was carried by Tug Sanket with Torsa III and the ODC with 741.12 MT was carried by MV Gwalior with Topaz III. All the three ODCs – that left from Kolkata's Diamond Harbour – docked at the Pandu Port of IWAI earlier today.