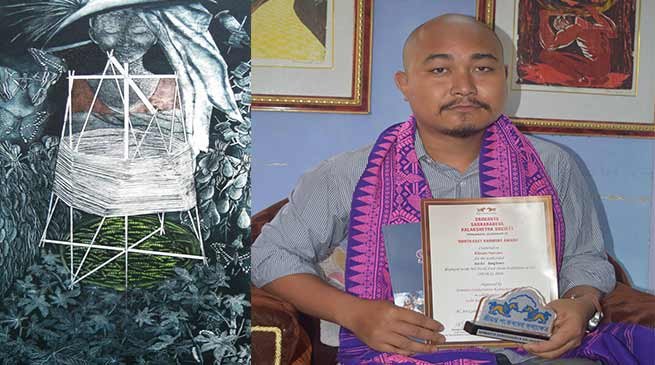 Kokrajhar
Bikram Narzary, a young artist from Kokrajhar was selected for the All India Gold Medal Award for Print Making at the Kalanand Art Contest 2018 by the Prafulla Dahanukar Art Foundation, Mumbai.
The award which consists of medal and fellowship cheque Rs. 85,000 will be given away at the  Nehru Centre Auditorium, Worli, Mumbai on 29th March 2018.
Bikram Narzary was selected for award for his art titled 'Endi Amphwo'.
Recipient of several awards, the young talented artist had earlier  received the "North -East Harmony award at the 9th North- East state Exhibition of Art (NESEA) 2016 organized by Srimanta Santaradeva Kalakshetra Society in collaboration with Lalit Kala Academi, New Delhi at AC Art Gallery at Lalit Kala Bhawan, Guwahati. He was alsoawarded late Sundarbai Indarmal Borana (Munna Borana) and late SB Bangale (Artist VS Kulkarni Pratishthan) award in the "Nature 2 medium Wood" cut category at the 27th All India Art Exhibition, 2014 held in Pune, Maharashtra. He was also the recipient of All India Lokmaniya Tilak and Late Barrister V.V. Oak Art Exhibition 2014 in Pune, 29th Lokmaniya Tilak All India Art Exhibition 2016 Pune, New Delhi Municipal Council All India Art Exhibition in 2014 and 87th Annual All India Art Exhibition 2014.
A master degree from MFA (Graphics Department) at Indira Kala Sangeet Vishwavidyalaya (University of Music and Fine Arts), Kairagarh (Chhattisgarh), Bikram is the son of  Nijoy Kumar Narzary and Sumitra Narzary of Anthaibil in Kokrajhar district.