Manipur
Manipur: Mob tries to attack Manipur CM's private residence, over students' killing
Roshibina Devi, Asian Games silver-medallist, breaks down while talking about Manipur violence.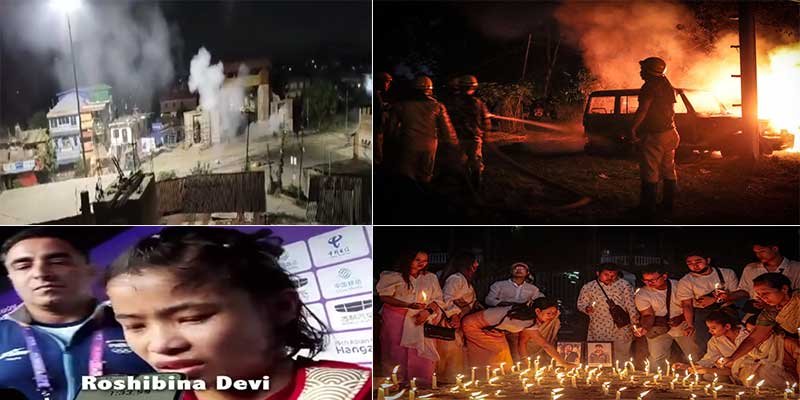 IMPHAL-  Manipur Update : Protest is continue in Manipur, Arson attempt on Manipur CM's private residence, Clash between security forces and mob, Security forces dispersed the crowd, fired tear gas shells And Manipur's athlete's dedicated  her silver medal  to those who protect her house and village in Manipur.
The protest against the murder of two young students in Manipur took a serious turn on Thursday night. The protesters Attempted to attack the private residence of chief minister N Biren Singh. The Chief Minister, however, lives in his heavily guarded official bungalow in Imphal.
WATCH VIDEO: Manipur update 29 Sep   
Let us tell you that on September 26, students had also tried to march to the official residence of the Chief Minister in Imphal, but the security forces dispersed the crowd by using tear gas and smoke bombs before they could reach the Chief Minister's official  residence.
It is also reported that the protesters also targeted the residences of state BJP president Sharda Devi and a BJP MLA in East Imphal district.
However, security forces immediately intervened and fired teargas shells to disperse the crowd at all places. There were some confrontations between security forces and protesters, including men and women.
On Wednesday night, protesters defied curfew and clashed with security personnel in Uripok, Yiskul, Sagolband and Tera areas, following which security forces had to fire several rounds of teargas shells to control the situation, officials said.
WATCH VIDEO-  Manipur update 28 Sep 
According to the reports published in newspapers, the protesters allege that on the Chief Minister, other state ministers, MLAs and BJP leaders are not doing anything special to restore peace in Manipur and on the other hand, strict action is also not being taken against violent activities of Kuki militants and their supporters.
Let us inform that the protests over the murder of two young students in Manipur continued for the third day on Thursday with the mob burning a BJP office in Thoubal district and vandalizing another office of the ruling party.
The protesters also set on fire two vehicles inside the Deputy Commissioner's office in Imphal and another vehicle parked near the same office was also set on fire.
The protesters, including women, blocked roads with burning tyres, boulders and iron pipes to prevent the movement of security forces from entering residential areas. Huge contingents of central and state security forces have been deployed in various districts.
Meanwhile, the Manipur Commission for Protection of Child Rights urged security forces not to "arbitrarily and suddenly" use lathicharge, teargas shells and rubber bullets on teenagers.
WATCH VIDEO- Manipur update 27 Sep 
BJP MLA Rajkumar Imo Singh, in a statement, strongly condemned the action of security forces to deal with the agitation in Manipur. He said, "Such acts of barbarity by the armed forces cannot be tolerated. He also urged the common people not to indulge in any kind of violence activities."
A 17-year-old girl and a 20-year-old boy had gone missing on July 6 during the height of caste violence in Manipur. their pictures went viral on various social media plaeform on Monday after internet service was restored for two days. After that people got angry. The families of both the students suspected that their children had been killed by armed assailants. Both the students who were killed after being kidnapped are residents of Bishnupur district.
WATCH VIDEO-  Manipur Need Peace
Manipur's Naorem Roshibina Devi won silver medal for India in wushu at the Asian Games. The last four months have been no less than an ordeal for Roshibina. Roshibina's family lives in the violence-hit city of Vishnupur in Manipur. On one hand Manipur was burning in violence, where her parents and siblings were stranded, on the other she was preparing for the Asian Games in Srinagar.
Roshibina said after winning the silver medal, 'Manipur is burning. Violence continues in Manipur. I can't go to my village. I want to dedicate this medal to those who are protecting us and suffering there.' This player from Manipur cried and said, 'I don't know what will happen, the fight is going on. When will this stop and when will normal life return like before?