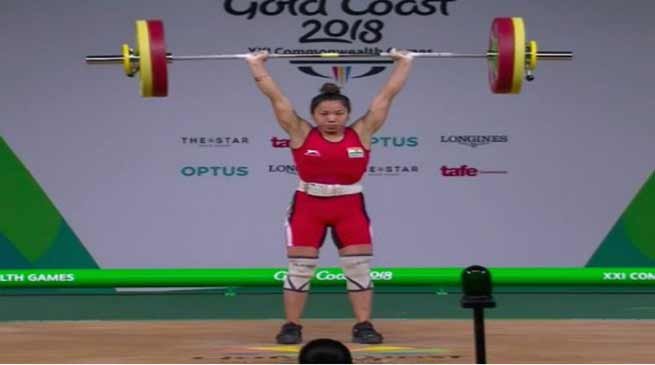 Manipur's Weightlifter Mirabai Chanu won the first gold medal for India in the 21st Commonwealth games 2018 (CWG 2018 ) in style, as she broke the games record en route to her medal.
She was competing in the 48 kg event and broke the record in the snatch category, lifting 86 kg in her third attempt. Second placed Amanda Braddock managed 76 kgs.
In the clean and jerk category, she lifted 110 kg and broke her personal record, which was 194 kg. Now, her personal best stands at 196 kg (110kg + 86 kg).
In a remarkable performance, Chanu smashed the Commonwealth and the Games record in snatch, pulling off clean lifts in all her three attempts (80kg, 84kg and 86 kg )
She then lifted more than double her body weight (103kg, 107kg and 110kg) in three successful attempts to claim the clean and jerk as well as the overall Games record.
The showing helped her better the silver she had won in the 2014 Glasgow CWG.
The Indian ended with a score of 196kg (86kg+110kg), earning a massive applause from the fans at the Carrara Sports and Leisure Centre.
The 23-year-old's previous best was a total lift of 194kg (snatch 85kg and 109kg in clean and jerk) achieved in the World Championships a few months ago.
Her nearest but still a very distant rival, Amanda Braddock of Canada failed to complete a single lift in the clean and jerk after managing a best of 76kg in snatch.
Earlier, P Gururaja claimed a silver medal in the men's 56kg event to open India's medal account in the quadrennial extravaganza.