Sikkim
Sikkim: CM PS Tamang Slams Pawan Chamling on defaming a minor on Social Media
Namchi Resident Monika arrested for defaming Minor Girl.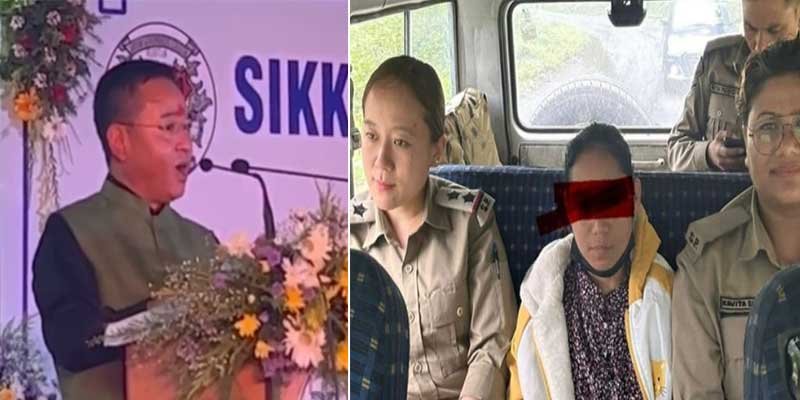 GANGTOK- Sikkim Chief Minister Prem Singh Tamang-Golay slams Pawan Chamling's unhealthy act of defaming a minor girl child over her dance performance via a social media page 'Pawan Chamling Ideas'. Chief Minister further urged the police to investigate the matter seriously and arrest the culprit immediately.
On the otherhand, Namchi resident Monika (with the facebook name Newarni Monika ) has been arrested from Namchi today by Sadar Police, Gangtok on the charges of defaming a 15 year old child by posting and sharing her dance video with indecent title on social media.  Police sources said that she is being brought from Namchi to Gangtok today.
Romance in Sikkim : Visit Yuksom, Lachung, Yumthang Valley, Mount Katao
An FIR has been lodged against the Facebook pages named "Pawan Chamling Ideas and Newarnee Monika" on june 26 for indecently representing a 15-year-old girl, according to the Sadar police station. The complaint was filed by a 34-year-old lady, who is the owner of a production house called "Dreamland Film Production."
The complaint had organized a program for a music video launch. In this programme her 15 years-old- daughter had performed a Bollywood song and dance.
Gurudongmar Lake: The most amazing place in Sikkim
However two different Facebook pages name "Pawan Chamling Ideas" and "Newarnee Monika" with ulterior motive had intentionally posted and shared the said video of her daughter with an indecent caption, projecting her in an obscene and vulgar manner.
The link and screenshot of the said video is also enclosed along with the FIR.
Sikkim Tour: 4 places famous for couples
The complainant also mentions that such criminal act done by the Facebook profile id by the name and style Pawan Chamling Ideas and the Facebook profile id by the name and style Newarnee Monika, has not only defamed her daughter by showcasing her in a wrong light but they have also outraged her modesty through the social networking site.
The FIR has been registered at the Sadar police station under sections 509/500/34 IPC 1860 r/w Sec 66'E' of IT Act 2000 r/w Sec 11(IV)/12/23(4) of POCSO Act 2012 against the Facebook profile named "Pawan Chamling Ideas and others." The case is currently under investigation.