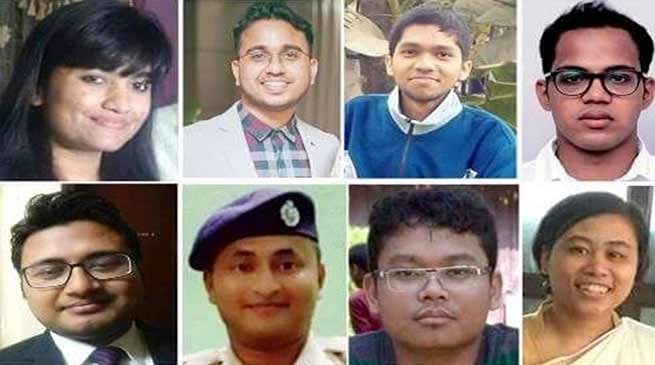 Guwahati
UPSC on Friday published the final results for Civil Services Exam 2017. The result has been published on its official website upsc.gov.in Anudeep Durishetty is from Hyderabad has got the top spot, Anu Kumari has emerged second and Sachin Gupta has got the third rank.
180 candidates have been selected for IAS. 42 for IFS, 150 for IPS, 565 for Central Service Group (A)  and  121 candidates for Group (B). 750 are men and 240 are women among the 990 selected.
14 aspirants from Assam qualified this UPSC exam.  Bipasha Kalita securing the 41st position followed by Swapnaneel Paul 64th position. Newly appointed DGP of Assam, Kuladhar Saikia's son Aranyak Saikia also succeeded in securing 148th position.
UPSC RESULT 2017-  From Northeast India the following 18 candidates have qualified in UPSC examination, out of which 11 from Assam, 4 from Arunachal Pradesh and 3 from Manipur.   
candidates of Assam
Bipasha Kalita-  AIR 41
Swapnaneel Paul- AIR 64
Mrigakhi Deka- AIR 126
Aryanak Saikia- AIR 148
Purna Borah- AIR 149
Manalika Borgohain- AIR 230
Mamoni Doley- AIR 593
Subhajit Bhuyan- AIR 645
Partha Protim Das- AIR 738
Manoj Swargiary- AIR 795
Deepjoy Das- AIR 855.
Candidates from Arunachal
Masanda Magdalin- AIR 443,
Phurpa Tsering- AIR 561
Ojing Dameng- AIR 644
Duyu Kampu- AIR  777
 Candidates From Manipur
Pooja Elangbam-                     Rank 81.
Gonreipou                               Rank 890.
Ningthoujam Johnson Meitei- Rank 970.
Team  Northeastindia24  hearty congratulated  to all the successful candidates in UPSC from Arunachal in particular and Northeast in general. They are the inspiration for the youths of the pan Northeast  who dare to dream and pursue their dreams vigorously