Assam
Assam: Army provides basic facilities to Local People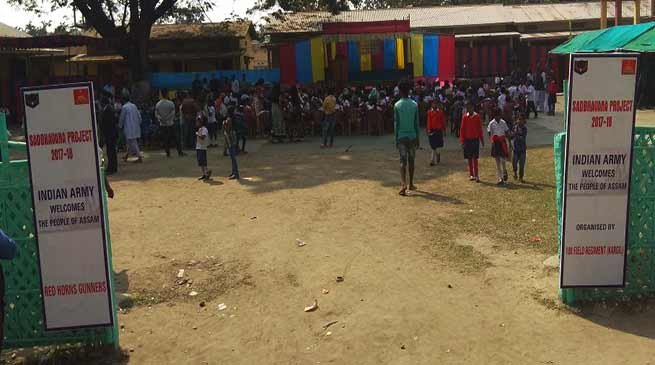 Mangaldoi
As part of operation Sadbhavna, Army camp kharupetia of Red Horns Division provided basic facilities to the local people of Darrang district on 17 February and relieved them from some of their major problems.
Army constructed two classrooms with toilet facilities and provision of furniture(16 four seater bench and desk) at Prathmik Vidyalaya Hospital Colony, Kharupetia.
hey also provide a drinking water facility with RO at Kharupetia Town LP School, Kharupetia. and  Distribution of ten Sewing machines with furniture to unemployed women of Kharupetia.
not only that, Army also organised a  Medical camp and distributed medical equipments including  15 wheelchairs, 5 hearing aid, 10 goggles, 4 Crutches and 10 walking stick.
 A large number of  people (from all age group) have been benefited from these initiatives. All sections of society were adequately addressed. The sewing machine will ensure employment for women, medical equipments distributed will be a boon for old people and construction of classroom & water drinking facilities will benefit a large numbers  of school going children. The populace was very appreciative of the humane and noble work done by the men in Olive Green of the Red Horns Division who have been caring for their upliftment and well being.