Assam
Guwahati Theatre Festival 2017 concludes with Atul Kumar's Piya Behrupiya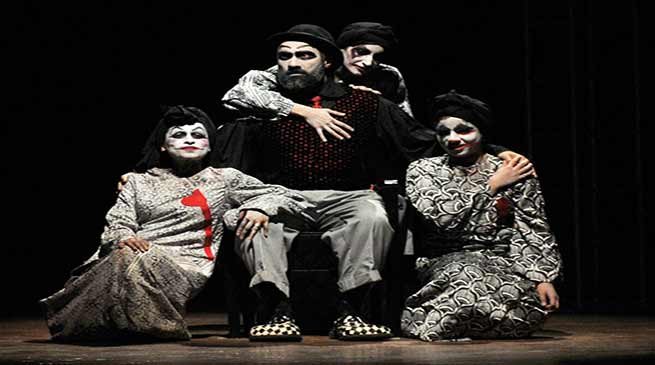 Guwahati
The second season of G Plus Guwahati Theatre Festival concluded on today (Sunday) with Atul Kumar's Piya Behrupiya, with brilliant performances by Trupti Khamkar, Dhvani Vij, Manasi Multani and others.
The play, a Hindi translation of Bard's famous comedy play, Twelfth Night, is a nautanki musical that has many folk songs performed by the characters with a unique Indian flavour.
The festival which was held from the 1st to the 5th of November also featured plays like Quasar Thakore Padamsee's Mother Courage and Her Children, Alyque Padamsee's Broken Images, The Gentlemen's Club aka Tape by Sheena Khalid, Puja Sarup, Rachel D'souza and Vikram Phukan, Rajat Kapoor's What's Done is Done and Piya Behrupiya by Atul Kumar.
The Life in the Theatre Award 2017 was presented posthumously to Padmashree  Arun Sarma, who had made all of us proud with his distinguished work in numerous capacities. He was one of the most celebrated playwrights of Assam and was particularly known for his unconventional plays with elements of drama.
Keeping its first season's appeal intact, the festival has been a major success as it saw a turnout of over 5000 people in a span of five days with the audience also looking forward to the festival returning for the next year.
 "It has been highly encouraging to see such a huge turnout each day, making this the landmark theatre event of the city. We are already looking forward and planning for the next edition in 2018 and hope to make it even bigger, better and all-encompassing," said Sunit Jain, Managing Director & Publisher of G Plus and Festival Chairman.
The Guwahati Theatre Festival also featured four workshops conducted by Quasar Thakore Padamsee, Bhavna Pani, Trupti Khamkar, Sheena Khalid and Puja Sarup which were attended by over 100 school and college students, theatre enthusiasts and artists. The workshops were conducted in association with Brahmaputra Foundation and supported by North Eastern Council, Ministry of Doner.