Mizoram
Mizoram: Solidarity March to extend solidarity with Zo people in ethnic strife-torn Manipur
Black flags also raised in households as part of demonstration.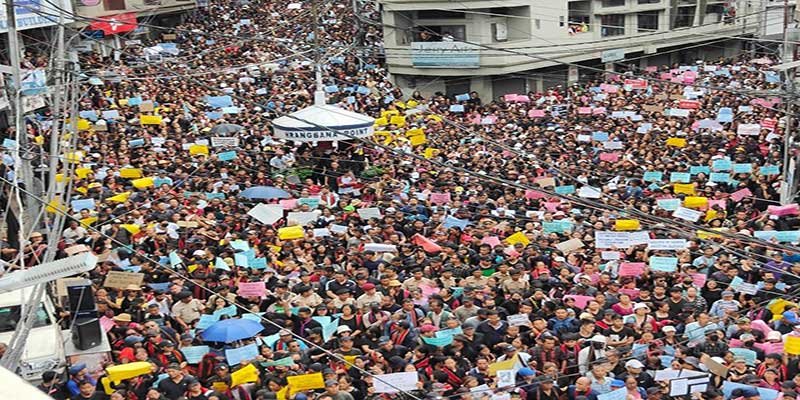 AIZAWL:    NGO Coordination Committee, Mizoram today organised a Solidarity March in the whole state of Mizoram, to extend solidarity with Zo people in ethnic strife-torn Manipur. Thousands of people participated in the processions in every district headquarters and other towns and villages.
People took out to the streets in a display of unwavering solidarity with Mizo ethnic tribes in violence-torn Manipur. This Solidarity March is organized by the NGO Coordination Committee comprises YMA, MUP, MHIP, MZP and MSU in Mizoram.
Manipur Violence: 7th accused arrested over Manipur Viral video case
Beside state capital Rally also held in all district headquarters of Mizoram. Black flags also raised in households as part of demonstration.
Mizos of Mizoram share ethnic ties with Kukis of Manipur, Kuki-Chins of Chittagong Hill Tracts of Bangladesh and Chins of Myanmar. They are collectively called Zo people.
NGO Co-ordination Committee, a conglomerate of five major civil society organisations including the Central Young Mizo Association (CYMA) and Mizo Zirlai Pawl (MZP), has take out the protest rallies.
Mizoram: 12,584 Chin-Kuki-Zo from Manipur have fled to Mizoram
Chief Minister Zoramthanga has announced that the MNF party office will be closed on Tuesday to extend support to the programme. He asked party workers to take part in the rallies.
Meanwhile, security has been beefed up across the state in view of the demonstrations.
Chief minister of Mizoram along with cabinet ministers also participated the Solidarity March against Manipur violence and standing for Kuki-Zo tribes in Manipur.