Assam
Assam: Pitch in all efforts to achieve targets under GSA-Khare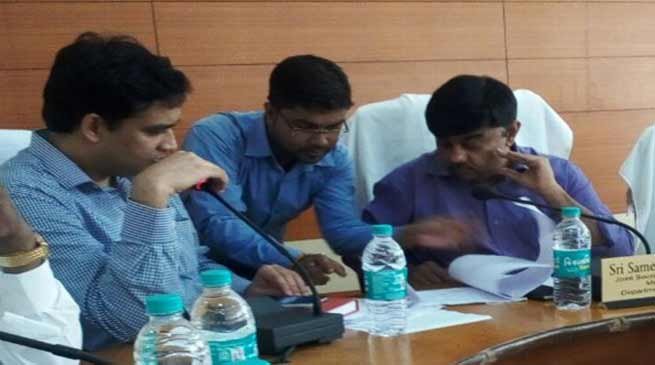 Hailakandi
Officer In-charge of Hailakandi and Joint Secretary, Department of Economic Affairs, Ministry of Finance, Sameer Kumar Khare reviewed the status of different activities in the ongoing Gram Swaraj Abhiyan (GSA) in 11 identified villages across Hailakandi district district of Assam.
Chairing the review meeting at Deputy Commissioner's conference hall here today, Prabhari Officer, Khare directed the district heads of the concerned departments to accelerate the process in meeting the targets during the campaign.
Khare asked the district heads to upload the data along with photographs on a day-to-day basis on the GSA portal.
The Prabhari Officer directed the GM, APDCL to hasten the process for electrification of the 11 villages, as it is way behind the target. Khare asked the GM to place the requirements such as transformers and other equipment to complete the target of electrification of 4066 households under Pradhan Mantri Sahaj Bijli Har Ghar Yojana (Saubhagya scheme).
Evaluating the progress of opening of bank accounts under PMJDY and enrolment under PMJJBY and PMSBY under GSA, Khare instructed the Lead District Manager to expedite the process in order to achieve the target within the stipulated time frame.
Khare further directed the Food, Civil Supplies and Consumer Affairs officials to saturate the identified villages with 100% LPG coverage under Pradhan Mantri Ujjwala Yojana on a mission mode.
The Prabhari Officer expressed satisfaction over the achievement made by the Public Health Engineering Department for making the 11 identified villages Open Defecation Free as per BLS 2012. He also appreciated the Health Services for the progress in immunization of children and pregnant women under the Intensified Mission Indradhanush. Of the targeted 106 children, 87 have been immunized and eight out of nine pregnant women.
Khare visited Polarpur and Bakrihawor Part III yesterday to oversee the activities taken up the different departments under GSA.
The Prabhari Officer took stock of the activities of Education, NRLM, Hailakandi Zilla Parishad, Veterinary and Animal Husbandry and other concerned departments, besides the action plan for the upcoming programmes under GSA on April 28, April 30, May 2 and May 5.
Earlier, Deputy Commissioner, Adil Khan briefed the Prabhari Officer on the slew of activities taken up by the concerned departments and action plan for the forthcoming programmes under GSA.
The meeting was attended, among others, by District Development Commissioner, FR Laskar, CEO, Zilla Parishad cum PD, DRDA, NK Shantee Singha and district heads of concerned departments.