Meghalaya
India-Myanmar Bilateral Army Exercise begins at Umroi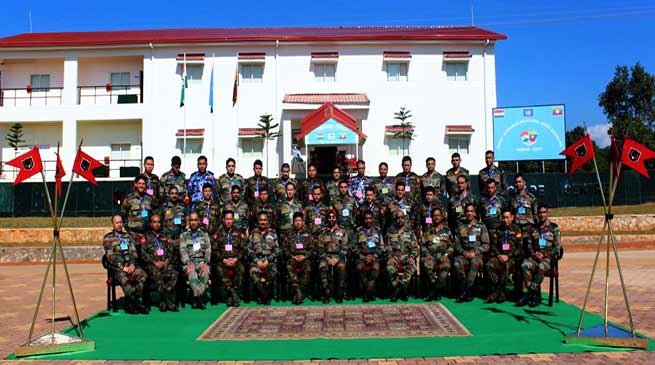 Shillong
A six day India-Myanmar Bilateral Army Exercise (IMBAX) between India and Myanmar kick started here at the Joint Training Node, Umroi in Meghalaya, under the aegis of Red Horns Division and Gajraj Corps.
Major General PS Behl, General Officer Commanding Red Horns Division welcomed the Myanmar Army Contingent comprising of 15 Officers and the 16 Officers representing the Indian Army contingent in the Exercise.
The India-Myanmar Bilateral Army Exercise (IMBAX) is the first ever India-Myanmar Exercise to be held on Indian soil conceived with an aim to build and promote closer relations while exchanging skills and experiences between the two armies.
The six day training exercise aims to train the officers of Myanmar Army in various United Nations Peacekeeping roles and tasks. The training curriculum will enable the participants of Myanmar Army with the requisite knowledge and skills to meet the evolving challenges of peacekeeping operations in accordance with principles, policies and guidelines of the United Nations.
The first India-Myanmar Bilateral Army Exercise (IMBAX) is a positive step in the bilateral relations between the two neighbouring nations. The conduct of such exercises in future will not only enable mutual capacity enhancement but will assist in building strong bonds of friendship and cooperation between India and Myanmar.