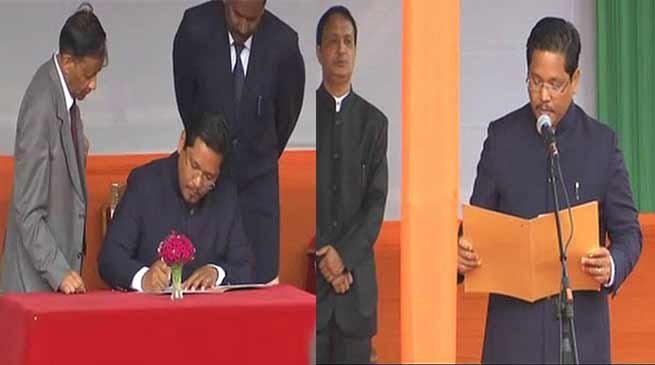 Shillong
The president of National People's Party,  Conrad Sangma sworn in as new Meghalaya CM On Tuesday, at a ceremony held in Shillong. Along with the NPP president, his council of ministers was sworn in at the same ceremony. NPP has the BJP, two regional parties and an Independent MLA.
The swearing-in ceremony was attended by BJP national president Amit Shah and Union Home Minister Rajnath Singh. Congratulating to  Conrad Sangma,  Rajnath said that "There was a perception that only Congress party can survive in the north-east but now that BJP has gained victory here that perception will change"
On Saturday, the Meghalaya Assembly election results 2018 threw up a fractured mandate, with the Congress emerging as the largest party. It was marginally ahead of its rival, the NPP. The NPP is an ally of the BJP at the Centre and in Manipur as well.
The Congress, in power in the state for the past 10 years, won 21 out of 59 seats that went to the polls on February 27. The figure was 10 short of a simple majority. Here are the top 10 developments around the Meghalaya government's swearing-in today:1)