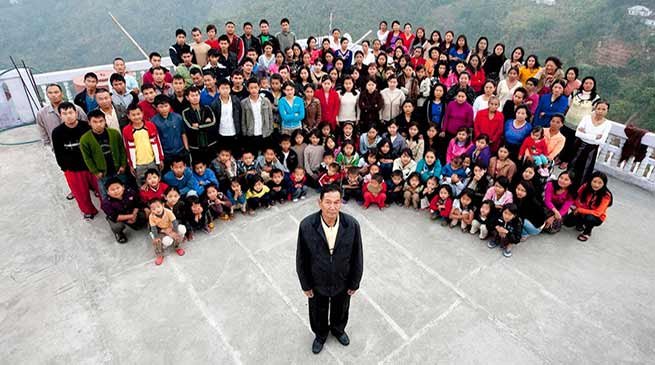 Aizawl
Ziona Chana of Mizoram, who is believed to head the world's largest family, with 38 wives and 90 children, on July 21st  celebrated his 74th  Birthday at Baktawng Tlangnuam village in Serchhip district.
Ziona, the head of a Christian religious sect called Chana Pawl.  Ziona is the head of a family of about 200 members that include his wives, children, daughter-in-laws, and grand-children, not to mention the 2,000-strong members of his sect.
The Celebration of Ziona's birthday is the annual ceremony that takes place at village where the sect exclusively lives.
The septuagenarian was surrounded by his wives, children and grandchildren as he celebrated his special day at Chhuanthar Stadium, a playground constructed by the sect members. After much singing and dancing, the day ended with a community feast in the evening.
Ziona, fondly called by his followers as 'hotupa' (leader), was born on July 21, 1944. He married his first wife, Zathiangi, in 1959 when he was 15. He married his second wife in 1968 when he was 24 and continued to tie the knot till 2004 when he married his 'last' wife, who was then 25 while he was 60.
Ziona lives with all his wives, children and grand-children in a four-storey home called Chhuan Thar Run which has many dorm-like rooms.
Ziona's eldest son Nunparliana, regarded as the heir-apparent by some members of the sect, is now 58 years old. He has two wives and 13 children.
He married his first wife in 1979 and the second in 1998. Unlike his father Ziona, who accommodates his 38 wives in two rooms, Nunparliana shares a room with both his wives.
Chana Pawl traces its origins to an evangelist called Khuangtuaha, who drew the ire of the headman of his village Hmawngkawn and the then British Government in power with his interpretation of the Bible, which was different from the majority Christians. Evicted from the village, the preacher and his followers began the sect on 12 June, 1942.