Nagaland
Nagaland: Rapist stripped naked, paraded by public In Longleng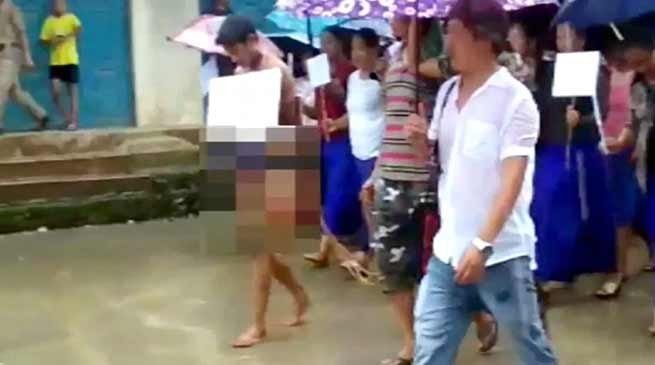 Kohima
Another case of mob violence coming in from Nagaland.  A mob stripped a man and paraded him naked in Longleng alleging him of raping a minor girl.
The accused rapist had allegedly raped a 15 year old minor on July 27 after taking her to a secluded place and then raping her while threatening physical harm.
A 15-year old minor was raped in Longleng town(Nagaland) by a 29 year old daily wage earner. He is  a married man are said to be neighbours.
According to the police, the victim, who is studying in class-7 used to watch television at the home of the accused every day.
However, on the evening of June 27, the accused led the victim outside on the pretext that her brother was calling for her. The accused then forcibly dragged the victim away to a secluded place after threatening her of physical harm and raped her.
When the victim's family came to know of the incident, the matter was reported to relatives and the apex women organization of Longleng town.
The local  Women apprehended the accused. The accused was handed over to the police only after he was thrashed and paraded around the town by the enraged women folk and local public.
The accused, identified as Longya Phom, is now under police custody. Reports claim medical examination of both the accused and the victim has confirmed that the rape happened.
 Sources add that the accused has confessed to his crime and a case has been registered in this connection.