Tripura
Tripura:  2 NIT Agartala student suspended, Action against 4 on charges of ragging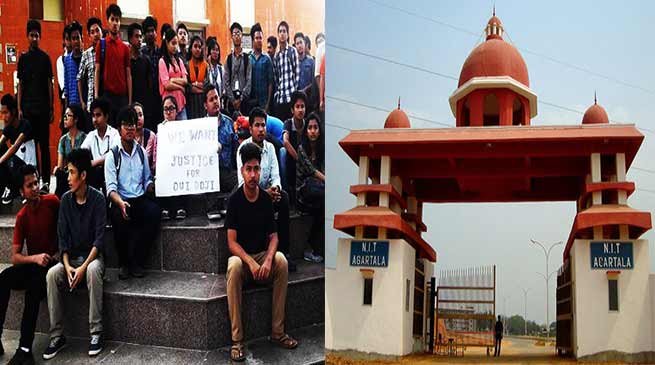 Agartala
Two National Institute of Technology  ( NIT ) -Agartala students have been suspended and action has been taken against another four students on charges of ragging.
Two senior  NIT-Agartala students of 8th semester have been suspended academically on charges of ragging junior students on Wednesday .
Four other students have been fined Rs 5,000 and three among them have been asked to quit the institute hostels," NIT-Agartala,  officials  informed the media.
The anti-ragging committee of NIT-Agartala, took these punitive actions after an inquiry on a complaint of ragging.
According to official source on March 9 around midnight, some senior students had called a number of junior students to a meeting outside the hostel and physically tortured them in the name of ragging.
"In the ragging, a student from Arunachal Pradesh, Dui Duji, sustained serious injuries but he was not even taken to hospital. Duji informed his parents and it was only after their arrival that the victim was hospitalised," the official added.
Some guardians of the ragged students had also filed FIRs with the police and it was only after that the NIT-Agartala authorities began proceedings against the errant students.
Various student bodies, including the Tribal Student Federation (TSF), have also launched and agitation to call for action against the guilty students.
TSF sources said that student bodies in Arunachal Pradesh had also protested the incident of ragging in NIT-Agartala.